Modernist Food and Cocktail Pairing by Chef Ryan Clift
Chef Ryan Clift, with over 20 years of experience and having worked with some of the world's best chefs, delights diners at his Tippling Club restaurant in Singapore with a modernist cuisine degustation menu that uniquely pairs cocktails to each dish. Chef Ryan's creativity and technique have taken him to present at Madrid Fusion, launch his own TV show on National Geographic Channel and be handpicked by 10 of the world's most recognized chefs to be showcased in the 2009 cookbook by Phaidon titled Coco.
As molecular gastronomy Chef Ryan Clift said:  "There's nobody in the world going to the lengths of the degustation menu - the pairing of cocktails to each dish. This isn't just unique about Singapore, we're pretty confident we've got a unique concept worldwide."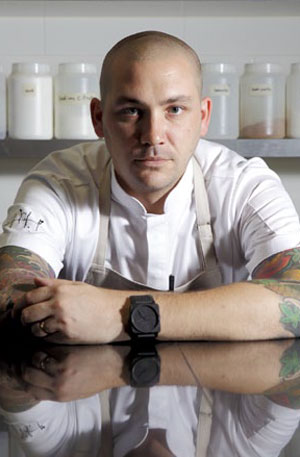 Chef Ryan Clift created the Tippling Club in 2008 and within its first two years of operation, Tippling Club became one of Singapore's best restaurants. Since then, Tippling Club has been selected for the annual Miele Awards Top 10 Best Restaurants in Asia in 2011 and nominated 23rd best bar in the world by Drinks International publication.
Chef Ryan Clift shared with MolecularRecipes.com how he designs the degustation menu progression and three complete recipes of his famous dish creations: Foie Gras Glogg, Liquorice All Sorts and Heirloom Carrot Gnocci.
Becoming an Award-Winning Chef
Chef Ryan Clift's culinary career began washing dishes at the early age of 14 at a 1 Michelin Star restaurant near his hometown in the United Kingdom. The high energy and atmosphere of the kitchen immediately drew Ryan's attention who soon worked his way up to becoming a culinary favorite. Later on came culinary school and upon graduation his first big chance:  moving to London and joining the prestigious Claridge Hotel Restaurant.
During 19 years Chef Clift worked out his career along some of the world's best cooks, until 1999 when he moved to Australia and became the outstanding Head Chef of Vue de Monde, one of Australia's best that counts with numerous awards including the Three Hats award by The Age Good Food Guide.
The Tippling Club Venture
Nevertheless, Ryan's urge for a natural progress led him to opening his own place.  And the best opportunity came from Singapore with people who shared his philosophy. First he teamed up with one of Melbourne's top bartenders and offered such superb combinations of molecular dishes and drinks that the restaurant and bar soon raised to a heavenly new level and the new molecular dinner and drink culture was very soon adopted by the exotic city of Singapore.
The new venture was launched: The Tippling Club – modern molecular food and creative cooking techniques paired with specialty cocktails.
Designing a Modernist Food and Cocktail Pairing Menu
When we asked Chef Ryan how he designed the menu progression and at the same time created the perfect matching cocktail for each dish, Clift's dedication to perfection became evident:  "The origins of the drinks and dishes are something we take very seriously at the Tippling Club."  His creative and production processes are as thoughtful as his cuisine.
Every Wednesday both kitchen and bar teams sit for three hours openly discussing new products  available,  season's best,   ideas and concepts already tested and the feasibility of the new ones. A true brainstorming session for all members of the Staff.  On the spot, decision is made to go forward or freeze until they feel it is worth moving onwards. When the meeting is over, each member of the staff walks away with a list of issues to work on under the guidance and direction of Chef Ryan whose eye makes sure both teams are working on the appropriate flavour combinations that will give birth to pairing creations.
The work continues on the following Wednesday when "homework" is analyzed and if possible tasted. The process can take up to 8 solid weeks before a molecular wonder and pairing drink can even be put on a plate or a glass. Ryan concludes that only when he is absolutely confident of flavour profiles they start to work on presentation. Now discussion focuses on new glass and dishware or the need of new designs, or the use of everyday utensils. Whatever highlights the new products.
The cycle closes when at the end of each month their own photographer captures the images to be used both in the website and in the house, always enhancing their appetite appeal.
Below is his current Gourmand degustation menu.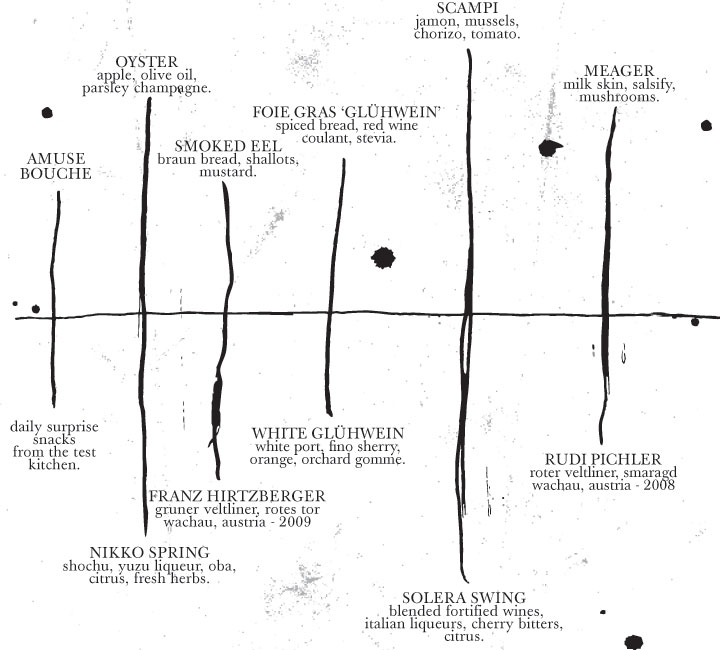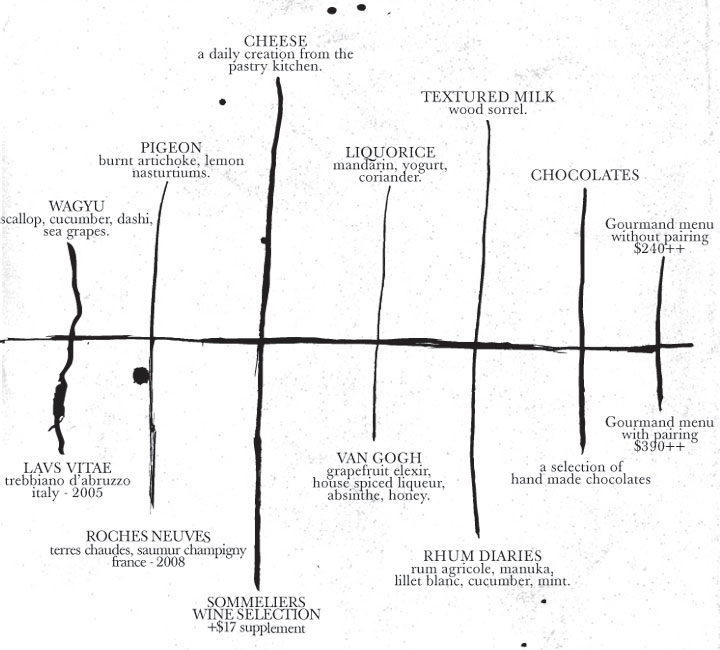 Chef Ryan Clift's Creations
Foie Gras Glogg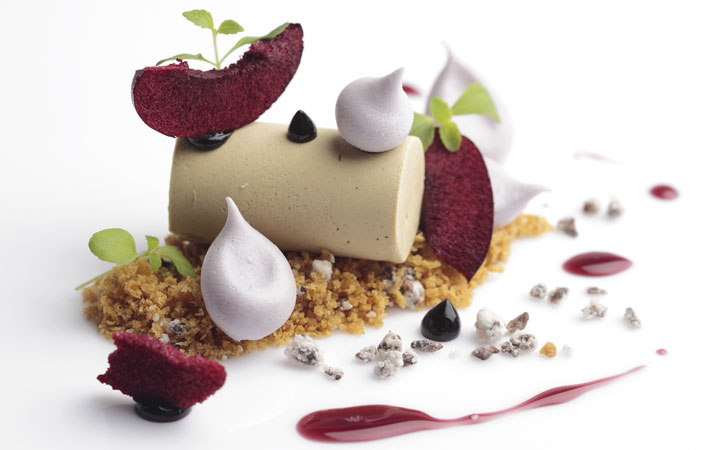 Smooth spreadable foie gras in tube shape and glogg (mulled wine) in different textures: fluid, gel and meringue. This incredible dish also has crystallized cocoa nibs, spiced brioche, freeze dried blood plum and stevia cress. Get Foie Gras Glogg recipe here.
In the current tasting menu, the Foie Gras Glogg is paired with White Glogg, made with white port, fino sherry, orange and orchard gomme.
Liquorice All Sorts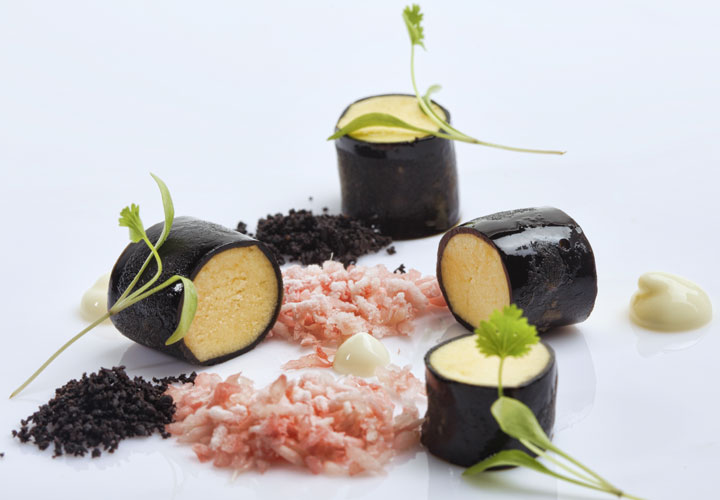 Mandarin sorbet coated in liquorice jelly, smoked yogurt and grapefruit segments garnished with black olive crumbs, dried mandarin segments, dried liquorice, dried rhubarb, micro coriander and black sea salt. Get Liquorice All Sorts recipe here.
In the current tasting menu, the Liquorice All Sorts is paired with Van Gogh, made with grapefruit elixir, house spiced liqueur, absinthe and honey.
Heirloom Carrot Gnocchi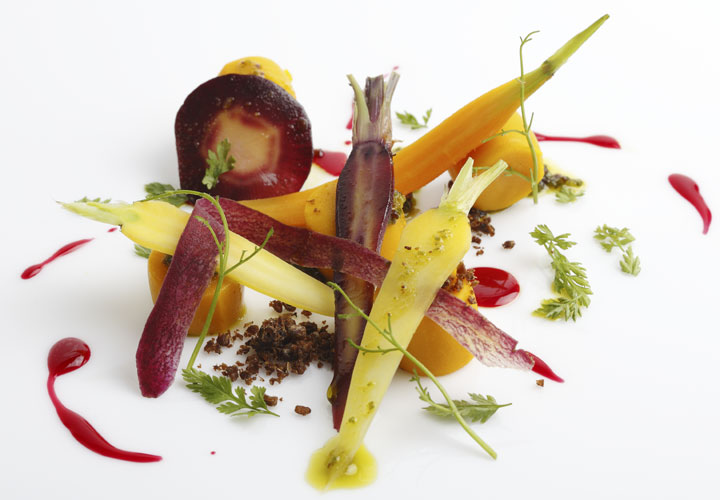 Modernist carrot gnocchi made with Methylcellulose and concentrated carrot juice made with a Roto-vap, Iranian salsa, carrot stock and garnished with compressed heirloom carrots and chervil stems. Get Heirloom Carrot Gnocchi recipe here.