Liquorice All Sorts
Mandarin sorbet coated in liquorice jelly, smoked yogurt and grapefruit segments garnished with black olive crumbs, dried mandarin segments, dried liquorice, dried rhubarb, micro coriander and black sea salt. Liquorice All Sorts is a creation of molecular gastronomy Chef Ryan Clift of Tippling Club restaurant in Singapore.
Chef Ryan Clift is known for his outstanding tasting menu pairing modernist dishes with cocktails. In the current tasting menu, the Liquorice All Sorts is paired with Van Gogh, made with grapefruit elixir, house spiced liqueur, absinthe and honey.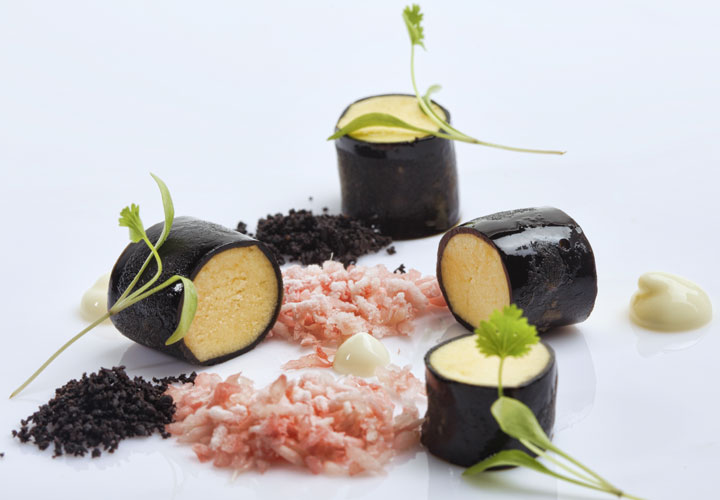 Ingredients
Mandarin sorbet
- 250 g (8.8 oz) water
- 80 g (2.8 oz) glucose
- 80 g (2.8 oz) sugar
- 25 g (0.9 oz) trimoline (inverted sugar syrup)
- 6 g pectin Nh
- 500 g (17.6 oz) mandarin puree (boiron)
Liquorice jelly
- 560 g (19.8 oz) water
- 400 g (14.1 oz) caster sugar
- 16 g (0.56 oz) Kappa Carrageenan (buy Kappa Carrageenan)
- 2 g black color powder
- 200 g (7 oz) Sosa liquorice compound
Smoked yogurt
- 500 g (17.6 oz) Greek yogurt
- 20 g (0.7 oz) Ultra-Tex 4
- 50 g (1.8 oz) honey
- 2 g salt
- Hickory wood chips
Grapefruit segments
- 2 pink grapefruit
Preparation
Mandarin Sorbet
1- Place all ingredients except the fruit puree in the Thermomix at 100 °C (212 °F) on high speed. Alternatively you can heat the ingredients in a pot and use an immersion blender.
2- When the temperature is reached add the fruit puree and blend for 1 minute.
3- Remove and chill.
4- Set in Pacojet beakers at -25 °C (-13 °F) before churning. Alternatively you can use an ice cream maker.
Liquorice Jelly
1- Bring all ingredients to a boil and keep warm until needed.
All Sorts
1- Churn the sorbet and place in a piping bag with a 2 cm (0.8 in) nozzle.
2- Pipe the sorbet into liquid nitrogen forming 10 – 12 cm (4 – 5 in) in length tubes.
3- Remove and dip the sorbet tubes into the hot jelly.
4- Remove and place in the freezer to come back to -25 °C (-13 °F).
5- Once at -25 °C (-13 °F) portion into 2 cm (0.8 in) sections and store in the freezer until required.
Smoked Yogurt
1- Cold smoke only the yogurt for 2 minutes. Use a device like the Smoking Gun or Super Aladin smoker.
2- Remove and blend in all other ingredients to form a gel.
3- Store in a squeeze bottle until needed.
Grapefruit Segments
1- Segment the grapefruit and cook in liquid nitrogen.
2- Remove and smash the segments to form individual micro segments.
3- Allow to defrost back to -25°C (-13 °F) or freezer temperature.
Garnish with
- Dried black olive crumbs
- Freeze dried mandarin segments
- Freeze dried liquorice
- Freeze dried rhubarb
- Micro coriander
- Black sea salt
Thank you Chef Ryan Clift for sharing this recipe with MolecularRecipes.com!