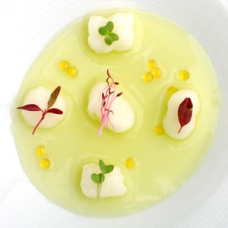 Creamy Kuzu Parmesan Gnocchi with Pea Water
This melt-in-your mouth gnocchi, perfectly contrasted with the delightful saltiness of Parmesan cheese and sweet pe ...
CONTINUE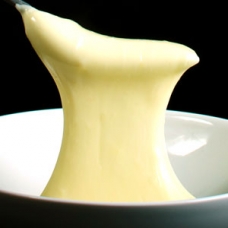 Melty Cheese with Flavorful Dry Aged Cheeses
Have you ever tried melting hard or semi-hard cheeses such as Parmesan, Gruyere or aged Gouda? If you did, you prob ...
CONTINUE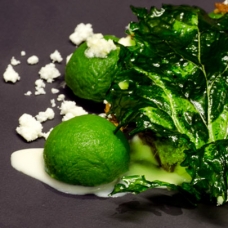 Dumplings, Broccoli Rabe, Garlic Powder, Anchovies
This modernist broccoli rabe gnocchi with garlic powder, garlic sauce and a beautiful fried broccoli rabe leaf is a ...
CONTINUE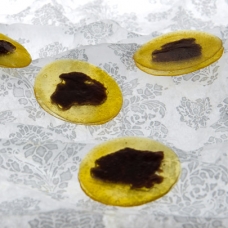 Chef Ferran Adria delights us with a great pairing of mango and black olive in interesting textures. Using what he ...
CONTINUE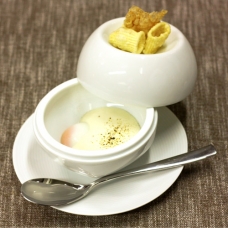 65° Sous Vide Egg Carbonara at Metamorfosis
One of Metamorfosi's most popular dishes, creamy egg perfectly cooked sous vide at 65° and accompanied by crispy ...
CONTINUE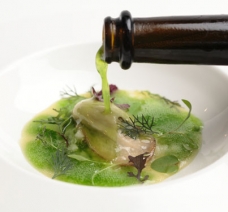 This elegant oyster dish is a shining example of the modernist cuisine created by Chef Ryan Clift of Tippling Club ...
CONTINUE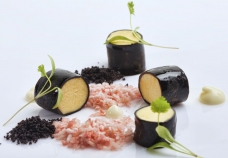 Mandarin sorbet coated in liquorice jelly, smoked yogurt and grapefruit segments garnished with black olive crumbs, ...
CONTINUE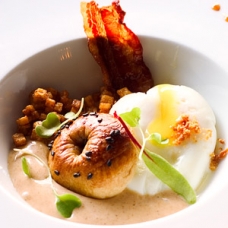 The Egg and Croissant Foam is a fantastic molecular breakfast with poached egg, croissant foam, fried potato brunoi ...
CONTINUE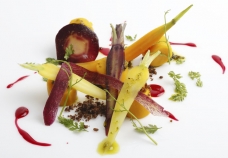 Modernist carrot gnocchi made with Methylcellulose and carrot juice concentrated in a Roto-vap, Iranian salsa, carr ...
CONTINUE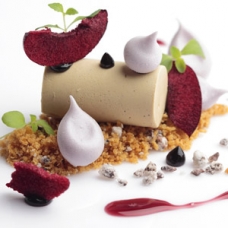 The Foie Gras Glogg is a creation of molecular gastronomy Chef Ryan Clift of Tippling Club restaurant in Singapore. ...
CONTINUE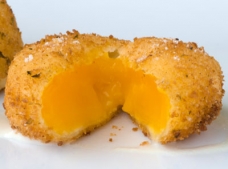 Sous Vide Egg Yolk Croquette with Gruyere Foam
Creamy Spanish croquettes are one of my favorite tapas and this modernist version is no exception! A delicious crun ...
CONTINUE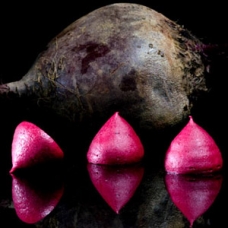 Beetroot Meringue Puffs Filled with Olive Oil Foam
Savory meringue puffs have been served by molecular gastronomy chefs for a while. Chef Jose Andres used to serve a ...
CONTINUE