Beetroot Meringue Puffs Filled with Olive Oil Foam
Savory meringue puffs have been served by molecular gastronomy chefs for a while. Chef Jose Andres used to serve a beetroot meringue filled with goat cheese at his restaurant The Bazaar. Delicious!
In this recipe we fill the beetroot meringue puff with olive oil foam using an ISI Whip. The resulting meringue puff, which is made in a dehydrator rather than the oven, is very delicate, melts in the mouth and has a beautiful color.
Ingredients
- 150 g (5.3 oz) beetroot juice
- 50 g (1.8 oz) sugar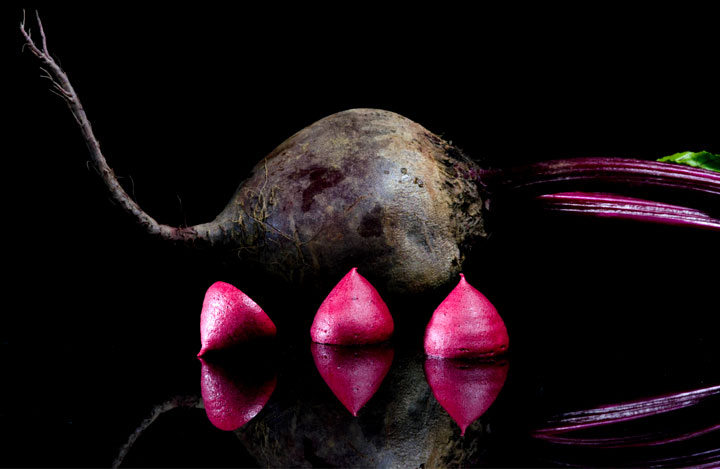 - 3.5 g Methylcellulose F50 (Buy Methylcellulose F50)
- 0.9 g Xanthan Gum (if you live in a dry place, then you may want to reduce the amount of Xanthan Gum to obtain a more delicate puff. Use 0.6 g. Buy Xanthan Gum.)
- Olive oil foam (see olive oil foam recipe)
Preparation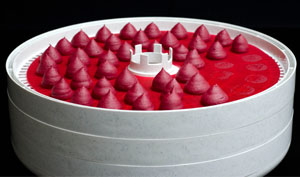 1- Bring beetroot juice and sugar to a simmer in small saucepan. If you have a Thermomix, use it for this recipe. First, you can heat and blend the methylcellulose with the juice to disperse it. Second, you can use it to disperse the xanthan gum. And finally, you can use the Thermomix butterfly whisk to create the foam.
2- In bowl of stand mixer or Thermomix, mix beetroot juice with methylcellulose using an immersion blender.
3- Add the Xanthan Gum and mix thoroughly with immersion blender or Thermomix.
4- Attach bowl to mixer fitted with whisk attachment and mix for 5 minutes or until stiff peaks form. If using the Thermomix, insert the butterfly whisk and set it to speed 5.
5- Transfer to pastry bag fitted with medium round tip.
6- Line dehydrator tray with silicone mat, or acetate or parchment paper if you don't have silicon mat.
7- Pipe bite sized mounds on the mat. Make sure the height of the mounds is not larger than the gap between the trays in your dehydrator.
8- Dehydrate at 66 °C (150 °F) for 4 hours or until crisp.
9- Using the tip of the ISI Whip, a small spatula, a cinnamon stick or other similar item, make a hole on the bottom of each puff by carefully rotating the stick clockwise and counter-clockwise.
10- Reserve in airtight container with silica gel bags.
Assemble and Serve

1- Right before serving, fill each puff hole with olive oil foam using the ISI Whip.
2- Serve immediately or puff will get soggy.