Foie Gras Glogg
Smooth foie gras in tube shape filled with glogg (mulled wine) fluid and complemented by glogg in different textures: gel and meringue. This incredible dish also has crystallized cocoa nibs, spiced brioche, freeze dried blood plum and stevia cress. The Foie Gras Glogg is a creation of molecular gastronomy Chef Ryan Clift of Tippling Club restaurant in Singapore.
Chef Ryan Clift is known for his outstanding tasting menu pairing modernist dishes with cocktails. In the current tasting menu, the Foie Gras Glogg is paired with White Glogg, made with white port, fino sherry, orange and orchard gomme.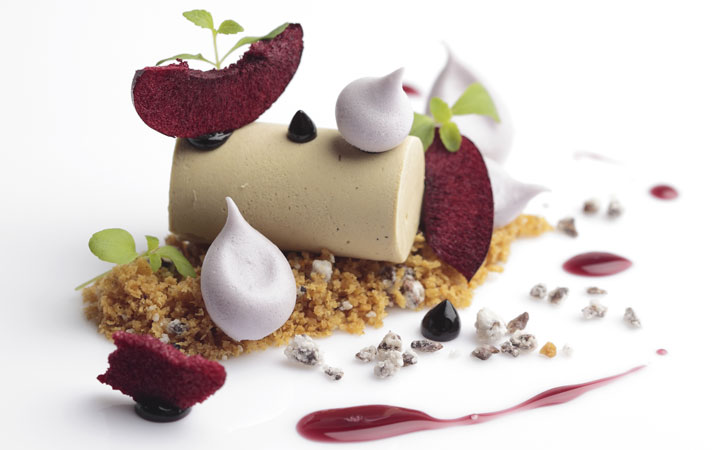 Ingredients for foie gras tubes (12 servings)
- 1 lobe Fresh Foie Gras
- 20 g (0.7 oz) Insta-cure 2
- 40 ml (1.4 oz) cognac
- salt and pepper
- 80 g (2.8 oz) cocoa butter
Ingredients for Glogg
- 3 x bottles merlot wine
- 80 g (2.8 oz) orange peel
- 3 cinnamon sticks
- 20 juniper berries
- 10 cloves
- 1 star anise
- 250 g (8.8 oz) Sugar
- 25 g (0.9 oz) crystalline fructose
Ingredients for Glogg fluid
- 500 ml (16.9 oz) glogg
- 4 g xantham gum (buy xanthan gum)
Ingredients for Glogg gel
- 200 ml (6.8 oz) glogg
- 20 g (0.7 oz) ultra-Tex 4, can be substituted with Ultra-Tex 3
Ingredients for Glogg meringue
- 330 g (11.6 oz) Glogg
- 70 g (2.5 oz) sugar
- 250 g (8.8 oz) fresh egg whites
- 20 g (0.7 oz) egg white powder
- 2 g salt
- 6 g gelespessa (Sosa product, similar to Xanthan Gum)
Ingredients for Crystallized Cocoa nibs
- ½ cup cocoa nibs
- ½ cup sugar
-3 tbsp water
-¼ cup crushed salted beer nuts
Ingredients for Spiced brioche
- 300 g (10.6 oz) fresh Brioche
- 10 g (0.35 oz) ground ginger
- 10 g (0.35 oz) dried orange powder
- 10 g (0.35 oz) 8-spice powder
- 250 g (8.8 oz) butter
- 20 g (0.7 oz) brown sugar
Preparation
Foie Gras
1- Devein foie and season with all other ingredients.
2- Bake in the oven at 180 °C (356 °F) until core temp reaches 52 °C (126 °F).
3- Remove and leave to cool to room temp.
4- Blend foie to a smooth puree remove and chill.
5- Once cold re-blend foie till a spreadable texture is obtained.
Foie Gras Tubes
1- First take a plastic plumbing pipe 4.5 cm (1.8 in) in length and 3 cm (1.2 in) in width.
2- Cut acetate strips at 5 cm (2 in) high 10 cm (4 in) length, also bases and tops at 5x5 cm (2x2 in).
3- Smear foie on the bases first, and then on the strips, fold the strips inwards to fit inside the tube, sit the tube on the base and immediately place in the fridge for 20 minutes.
4- Once set fill ¾ of the tube with Glogg fluid (preparation below), then smear foie on the 5x5 cm (2x2 in) acetate sheets and cover the tops set a side in the fridge until required.
NOTE: this preparation must be made fresh each day, as the foie will change in flavor and color .
Glogg
1- Bring to a simmer all ingredients and reduce by ½.
2- Remove, strain and chill.
Glogg Fluid
1- Place all ingredients in the Thermomix on speed 2 for 25 minutes until viscous. You can also use an immersion blender for this step.
Glogg Gel
1- Whisk all together to form a smooth gel.
Glogg Meringue
1- Blend together 330 g (11.6 oz) glogg with 70 g (2.5 oz) of sugar and place in vacuum chamber to remove air. If you don't have a vacuum chamber, pass it through a fine sieve and let it rest for a few hours.
2- Whip 350 g (12.3 oz) of the previous preparation with fresh egg whites, egg white powder and salt for 6 minutes or until a good stiff meringue is obtained.
3- Add gelespessa and whip for a further 6 minutes.
4- Remove and pipe onto dehydrator non-stick mats and dehydrate for 3-4 hours at 55 °C (131 °F).
Crystallized Cocoa Nibs
1- Add sugar and water and cook to 103 °C (217 °F).
2- Add cocoa nibs and stir vigorously until they crystallize.
3- Remove and cool.
Spiced Brioche
1- Melt the butter and lightly fry all ingredients together until golden.
Garnish
1- To finish garnish with freeze-dried blood plum and stevia cress.
Thank you Chef Ryan Clift for sharing this incredible recipe with MolecularRecipes.com!