Clear Canapé – Asparagus, Miso Foam, Malt Crumble
Molecular gastronomy Chef Ferran Adria was dazzled when he discovered the edible film discs and has creatively used them multiple times at el Bulli to surprise diners. As Chef Ferran says, the edible film is the thinnest crepe that has been created and the most elementary form of dough available today. A few weeks ago, we showed you how to use the edible film discs to make Disappearing Transparent Raviolis. Today we'll focus on another application used frequently by Chef Ferran Adria, clear canapés.
Instead of using bread, toasts or puff pastry, Chef Ferran uses the edible film disc as the clear canapé base. The canapé ingredients are placed in the middle of the edible film disc and opposite sides are lifted to form a U shape so it can be grabbed with the fingers by the diner, similar to a taco.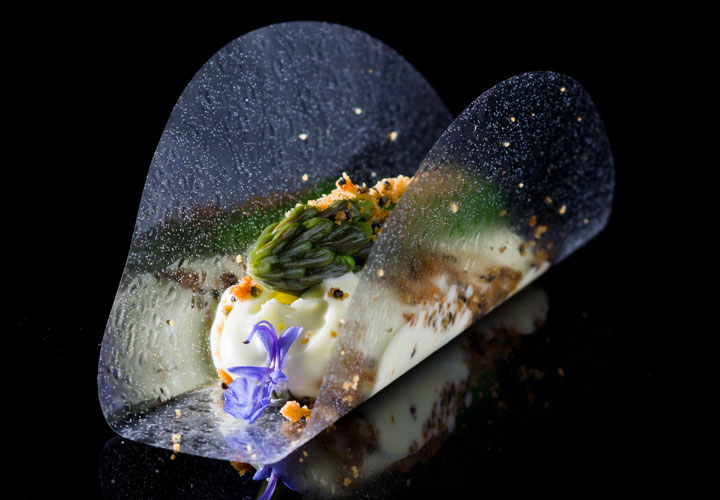 The transparent discs have no flavor and instantly dissolve in the mouth, making them ideal to appreciate the main ingredients of the clear canapé but also allowing the diner to grab it with the fingers without getting dirty. And of course, an amazing presentation that will keep diners talking for a few days. The edible film discs do not dissolve when in contact with oil or liquid ingredients with low water content so they can be used with crèmes, praline, flavored oils, honey, foie gras, dried fruits and vegetables, and many other ingredients.
This recipe was inspired by Chef Ferran Adria's asparagus and miso dish. The "Asparagus, Miso Foam, Malt Crumble" clear canapé made with edible film discs has a wonderful combination of flavors and textures. A tender asparagus tip is placed on top of a base of delicious miso oil foam, then sprinkled with crumbles made with malt powder, Grana Padano cheese and poppy seeds, and finally garnished with a rosemary flower. Clear base that melts instantly, smooth airy foam, tender asparagus and tasty crunchy crumbles…this is heaven! The combination of flavors is very interesting and incredibly delicious. The asparagus pairs magically with the miso, the yeasty malt aromas, the fruity and caramel components of Grana Padano, the nutty flavor of the poppy seeds and the fragrance of the rosemary flower.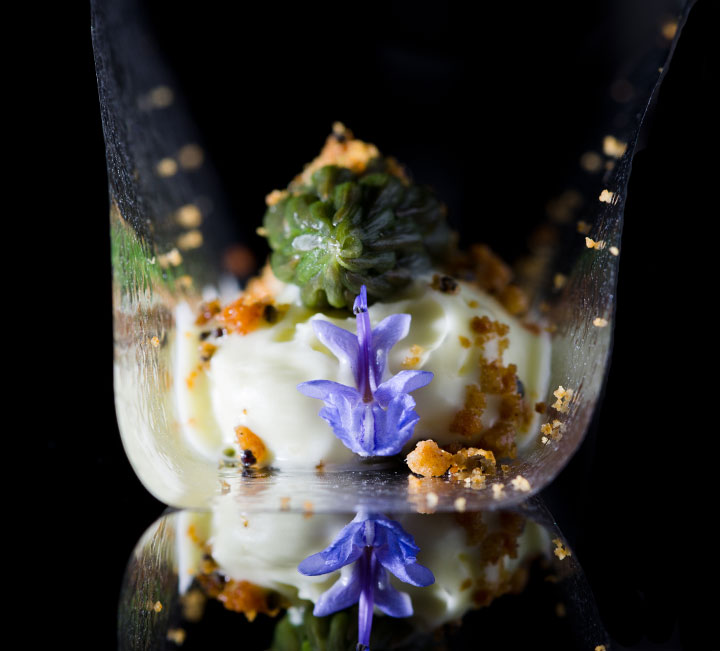 Ingredients for Clear Canapé (10 canapés)
- 10 thin asparagus spears
-  2 l (68 oz) water
- 80 g (2.8 oz) Kosher salt
- 10 ultra thin edible film discs (buy edible film)
- 10 rosemary flowers
Ingredients for Miso Oil Foam
- 100 g (3.5 oz) olive oil
- 100 g (3.5 oz) mild miso paste
- 7 g (0.25 oz) glycerin flakes (buy glycerin flakes)
- salt
Ingredients for Malt Crumble
- 20 g (0.7 oz) barley malt powder
- 10 g (0.35 oz) salted butter
- 10 g (0.35 oz) Grana Padano cheese
- 4 g (0.14 oz) poppy seeds
Preparation
Miso Oil
1- Whisk together olive oil and miso paste and leave for 48 hours in the refrigerator to infuse the oil with miso aromas.
2- Strain through a chinois by pouring in all the oil and miso paste and leave to sit until all the oil has dripped out.
Miso Oil Foam
1- Heat the miso oil from the previous preparation and glycerin flakes (8 g for every 100 g of oil) at low temperature until they reach a temperature of 60 °C (140 °F).
2- Stir until the glycerin flakes dissolve.
3- Season with salt. Keep in mind that volume will expand 3 or 4 times after foaming so add some extra salt.
4- Pour mixture into ISI Whip with straight nozzle, screw 1 cream charger (2 if using 1L ISI Whip) and shake vigorously after each one.
5- Reserve at room temperature.
Asparagus Tips
1- In a medium pot, bring water and salt to boil.
2- Fill a large bowl with water and ice to cool the asparagus after blanching.
3- Place the asparagus spears in the boiling water for 1 ½ minutes.
4- Remove them and immediately place them in the ice cold water for 5 minutes to stop the cooking process.
5- Cut the tip of the spears in 3 cm (1.2 in) sections with a knife at a 45-degree angle. Reserve covered in the fridge until serving time.
Malt Crumble
1- Heat the oven at 180 °C (350 °F).
2- Mix the malt powder, cheese and poppy seeds in a bowl.
3- Add the cold butter and make a fine crumble by rubbing the butter into the flour with your hands.
4- Spread the crumble on a cookie sheet and place in the oven until golden brown (about 3 or 4 minutes). Reserve in a sealed container until serving time.
Assemble and Serve
1- Make sure your working area and hands are completely dry.
2- Lay edible film discs on working surface or directly on serving plate.
3- Pump a 3 cm (1.2 in) strip of miso oil foam in the middle of each edible film disc.
4- Place one asparagus tip on top of the miso foam. Make sure the asparagus tips are completely dry. Blot dry with paper towel if necessary. You can also brush them lightly with olive oil.
5- Sprinkle some maple crumbs on top of the foam and asparagus tip.
6- Carefully remove the green base of the rosemary flowers.
7- Place one rosemary flower on one end of the foam strip.
8- Using a small metallic offset spatula, lift each side of the edible paper to form an open U shape and press gently the film against the miso oil foam. The edible film will stay upright as it sticks to the foam.