Dumplings, Broccoli Rabe, Garlic Powder, Anchovies
This modernist broccoli rabe gnocchi with garlic powder, garlic sauce and a beautiful fried broccoli rabe leaf is a nice twist on a traditional dish. Cristina Bowerman, chef and co-owner of both Glass Hosteria and Romeo in Rome, was generous enough to share it with us.
Chef Cristina is an extremely versatile woman. She began her education with a law degree from the University of San Francisco, then went on to graduate from Le Cordon Bleu in Austin, TX. Since then, she's been awarded a Michelin star and received two forks from Gambero Ross, along with other prestigious accolades. As if running two successful restaurants isn't enough, Chef Cristina also teaches at various culinary institutes in Italy and abroad.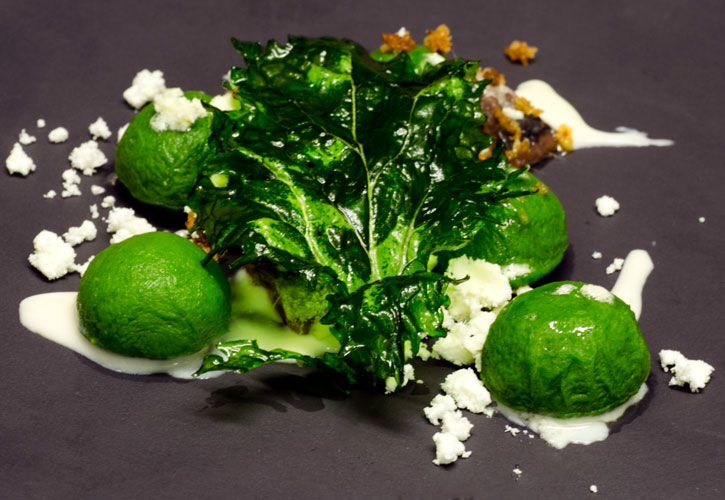 She was attracted to molecular gastronomy because she has "always been attracted to the science of things." When asked what drove her to her profession, the busy chef told us, "I have always asked myself why and that's how I got started." She was drawn into the science of food by reading the works of such greats as McGee, Hervé This, and later Katz.
One of her most favorite recent activities was spending time on stage at the European Convention of Science in Genoa with well-known Italian food scientist Dario Bressanini showcasing a recipe based on the principle of starch retrogradation.
Her love of science merges with her love of food in every dish that she creates. It's not science for the sake of science, but rather, she uses her two passions to create dishes that astound the senses and push molecular gastronomy to new levels.
Chef Cristina currently splits her time between Rome and Austin and hopes to open her next restaurant in her adopted Texas town.
Thanks, Chef, for sharing this fantastic recipe with us!
Ingredients
Yields 4 servings
Broccoli Rabe Gnocchi Ingredients
- 1kg (35oz) broccoli rabe, with leaves
- 100g (3.5oz) extra virgin olive oil
- 3 cloves of garlic
- ~25g Methylcellulose F50
- 8 Cantabrian anchovy filets, or other quality anchovies
- Splash habanero sauce
Garlic Oil Powder Ingredients
- 20g (0.71oz) garlic-infused olive oil set aside from before
- 45g (1.59oz) Tapioca Maltodextrin
Garlic Sauce Ingredients
- 340g (12oz) milk
- 3 garlic cloves
- ~0.3 g Xanthan gum, adjust as necessary to obtain desired consistency
Other Ingredients
- 4 tablespoons of seasoned bread crumbs, fried and crumbled coarsely
 Preparation
 Broccoli Rabe Garnish
1 - Use only the best broccoli Rabe tops and sauté them in the pan, along with the anchovies and habanero sauce. Set aside.
2 - Blanch 4 of the better looking and tender leaves and dry them for a couple of hours in a dehydrator (do not over-dry).
3 - Fry dried leaves in vegetable oil at about 150°/160°F (65°-71°C).
4 - Season with salt immediately and set aside.
Garlic Oil Preparation
1 - Prepare an infusion of garlic in the extra virgin olive oil and set aside 20g (0.71oz) for the garlic powder. You can use the Rapid Infusion with the iSi Whip technique.
 Gnocci Preparation
1 - Blanch the remaining broccoli rabe for a few minutes.
2 - Remove from water and squeeze excess liquid in the rabe.
3 - Sauté broccoli rabe in a pan with the remaining 80g of infused garlic oil, habanero sauce and a few anchovies. You can use the Thermomix if you have one so you can then use the same bowl to blend the broccoli rabe and disperse the methylcellulose.
4 - Weigh the sauté broccoli rabe.
5 - Add 2.5g of Methylcellulose F50 for every 100g of broccoli rabe mix and blend thoroughly.
6 - Put in hemispheric silicone molds and freeze.
Garlic Sauce
1 - Prepare a sauce by blanching garlic in milk.
2 - Remove the garlic and reduce the milk until it reaches a creamy consistency, using a little xanthan gum.
Garlic Powder
1 - Whisk together the reserved garlic oil with the Tapioca Maltodextrin in a bowl until it converts to a powder. To make it fluffier pass it through a tamis and reserve in a sealed container until needed.
Assembly
1 - Cook the gnocchi in boiling salted water right before serving.
2 - Drain and place in a bowl with a dash of olive oil.
3 - Spoon some garlic sauce on the bottom of the serving plate.
4 - Add gnocchi, anchovies, breadcrumbs and garlic-infused oil.
5 - Finish by adding the broccoli rabe tops and one fried leaf.
6 - Serve immediately.