The French 75 Cocktail Gel
This hemispheric cocktail gel version of the classic French 75 will leave your guests asking for more! This solid cocktail, from jelly shot expert Michelle Palm, should definitely be added to your list of favorite molecular cocktails. The recipe of the classic version of the cocktail has been adjusted to create the perfect gelatin cocktail. The fresh lemon juice, which can interfere with the jelling process, was substituted with lemonade concentrate and the amount of gin was reduced and replaced with more champagne. Agar Agar tolerates acid and could be used instead of gelatin if you want to use fresh lemon juice for this cocktail.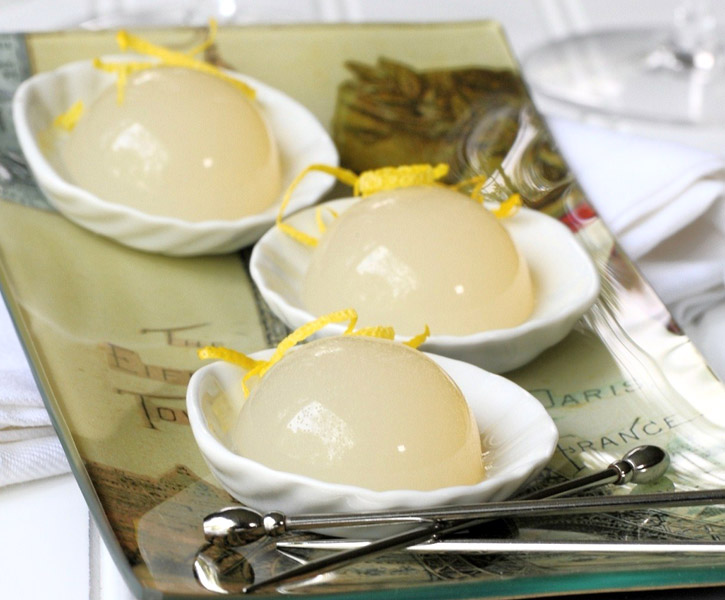 Ingredients
- 1/3 cup lemonade concentrate (strained to remove solids)
- 1/3 cup water
- 2 envelopes Knox gelatin *
- 2/3 cup gin
- 2/3 cup flat champagne, prosecco or other white sparkling wine **
- 1 tsp sugar (if desired)
- Lemon zest garnish, if desired (we prefer these to be ribbon-y and just for looks)
* Note: if using a flexible silicone mold, add 1/2 envelope additional gelatin (1/2 envelope equals about a teaspoon of gelatin powder).  A slightly firmer jelly shot is easier to pop out of molds.
** Why flat champagne?  Using flat champagne results in a cleaner looking jelly shot - otherwise the champagne foams and bubbles when poured into the pan, and can leave a foamy residue on the top of the jelly shots unless skimmed off before chilling.
Preparation
1- Combine lemonade concentrate and water in saucepan (and sugar if using).  Sprinkle with gelatin and allow to soak for a minute or two.
2- Heat over very low heat, stirring constantly, until gelatin is fully dissolved (approximately 5 minutes).
3- Remove from heat, and stir in the gin and champagne.
4- Pour into standard loaf pan (approximately 8" x 4") or hemispheric silicone mold and chill until fully set, several hours or overnight.
5- To serve, cut into desired shapes or release hemispheres from mold (read tips for making Cocktail Gels). Garnish with lemon zest.  Makes 18 to 24 shots.
Read more about the cocktail gel technique to obtain perfect results here! To explore other techniques go to molecular mixology.