2014 Michelin Main Cities Europe Guide Released
The 33rd edition of the MICHELIN Guide to Main Cities was released in March, 2014. A total of 77 star ratings were awarded in this issue, with 66 new one stars, 10 new two stars, and 1 new three star. The Guide gave high praise to one of the newest two star restaurants, Funky Gourmet, located in Athens, Greece. This year's Guide also includes several new restaurants in Austria and Hungary, including 4 restaurants in Vienna and one in Budapest.
The newest three star restaurant in the 2014 Guide is DiverXo, located in Madrid, Spain. Chef Davin Muñoz, a Madrid local, has created an outstanding menu he describes as Spanish fusion. The restaurant has quickly made a statement, not only with excellent food, but also with the outstanding presentation.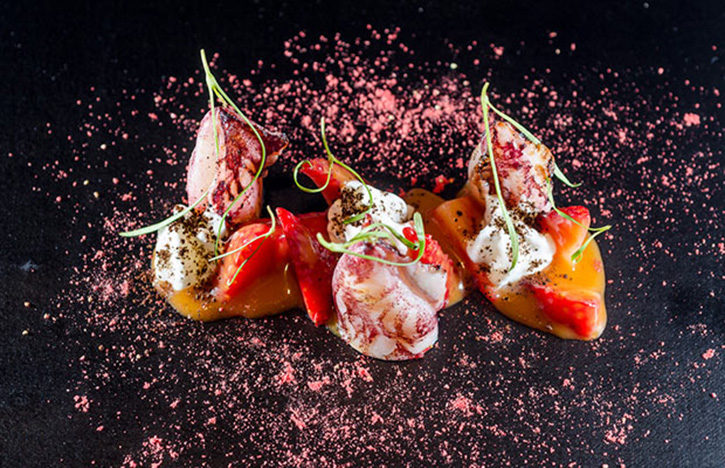 DiverXo Dish - Strawberry Kimchi, Yogurt and coffee with squid cooked on direct flame wok
In this edition of the MICHELIN Guide there are also 279 Bib Gourmand restaurants. The Bib Gourmand symbol is awarded to restaurants that offer an excellent value to customers. This section is becoming increasingly popular with Guide readers and restaurant owners alike.
In addition to the regular Main Cities of Europe Guide, MICHELIN also plans to release  a new Nordic Countries Guide on April 15th of this year. MICHELIN is publishing this guide because of the rich history and diversity in Nordic cuisine.
The MICHELIN Guide was created to help tourists and business travelers alike find great restaurants and hotels while visiting Europe.The Guide, which is published in English, covers 44 European cities in over 20 countries. Readers can find information about 1,562 hotels and 2,285 restaurants.