Foie Gras Ashes on Crystal Bread
Located on a hillside in the Basque Country of Spain, 3-Michelin Star Azurmendi is a restaurant that uses local ingredients to create dishes that push the boundaries of molecular gastronomy. In this dish, the delicious smokiness and creaminess of the foie gras is nicely complemented by crunchy Crystal bread. As with all of Chef Eneko Atxa's creations, you'll discover a new dimension to a traditional dish.
Crystal bread is a proprietary bread made in Catalunya with very special characteristics. It has a very fine and crispy crust, very light and airy dough with large air bubbles and a neutral and gentle taste. This bread is perfect to add crunchiness and showcase other ingredients, such as the foie gras cream in this recipe.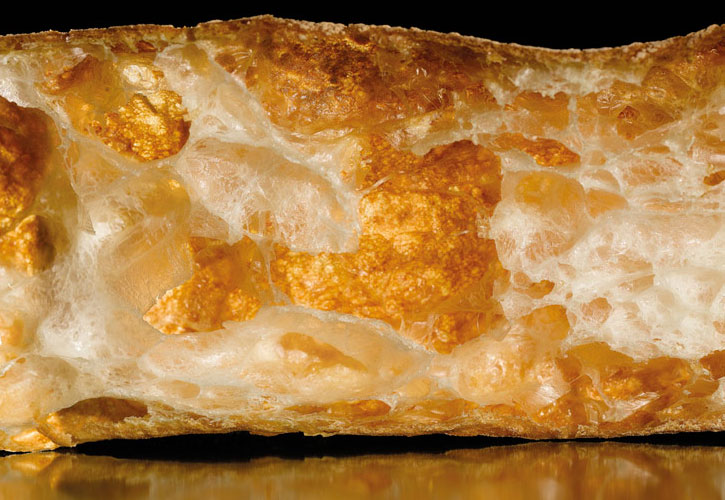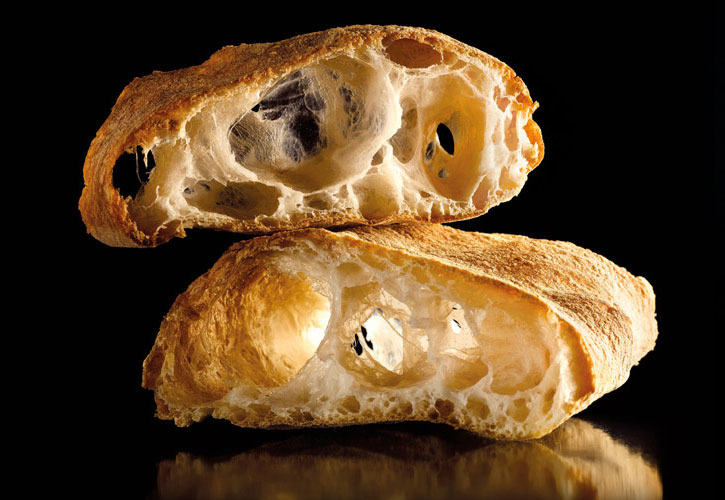 Ingredients
Ingredients for 10 people
Foie Gras Ash Ingredients
- 1/2 fresh foie gras
- Black salt
- Black pepper to taste
 Foie Cream Ingredients
- 1 fresh foie gras
- Salt to taste
- Black pepper to taste
Other Ingredients
-1 Crystal Bread loaf (crunchy bread with large air bubbles inside)
-10 Carnations (red, purple, pink, white)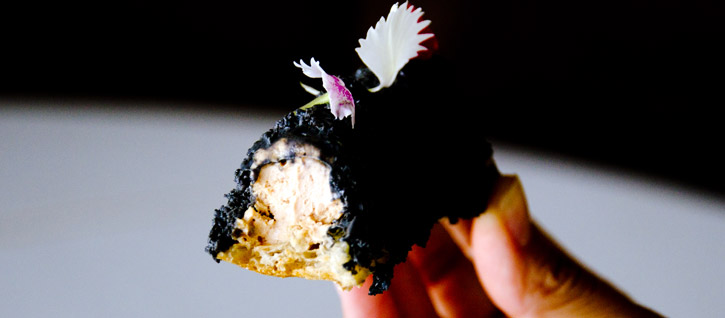 Preparation
Foie Gras Ash Preparation
1 - Devein the foie gras.
2 - Place on the grill until it's nicely browned.
3 -  Season with black salt.
4 - Place in a plum cake mold.
5 - Put in the oven at 70°C (158°F) bain marie water bath for 15-18 minutes.
6 - Press to release all the fat.
7 - Cool in fridge.
8 - Once cold remove the fat and shred the foie.
9 - Form into a roll.
10 - Place in the freezer.
Foie Gras Cream Preparation
1 - Devein the foie gras.
2 - Add pepper.
3 - Put in a pum cake mold.
4 - Bake at 70°C (158°F) in a bain marie water bath.
5- Press to release all the fat.
6 - Let cool in fridge.
7 - Once cold, remove fat and blend.
8 - Put in a pastry sleeve and set aside.
Other ingredients Preparation
1- Cut bread into pieces of 12cm long by 3cm wide.
2- Bake for 2 minutes at 180 °C (360 °F).
3- Smoke bread on charcoal grill.
4 - Reserve.
Assembly
1- Place a line of foie cream on toasted bread slice.
2- Shred frozen foie gras so that it completely covers the cream of foie gras.
3- Finish by placing Carnation petals on the foie gras.
4- Serve.