Pineapple Glass
The pineapple glass is a thin, glossy and flexible sheet that can be used to wrap other ingredients or made crispy by dehydrating it. A great way to add flavor with an interesting new texture and presentation. This technique is possible thanks to Pure-Cote B790, a modernist food starch derived from corn which has been specially modified to form clear flexible films with excellent sheen when it dries. You can use this technique with flavored liquids such as consomme, fruit juices and vegetable juices. In this case we wrapped Emmental cheese with pineapple glass.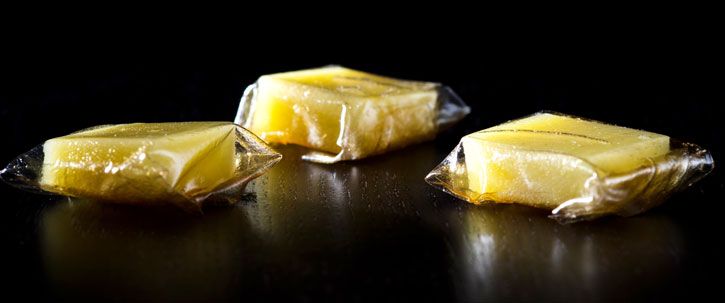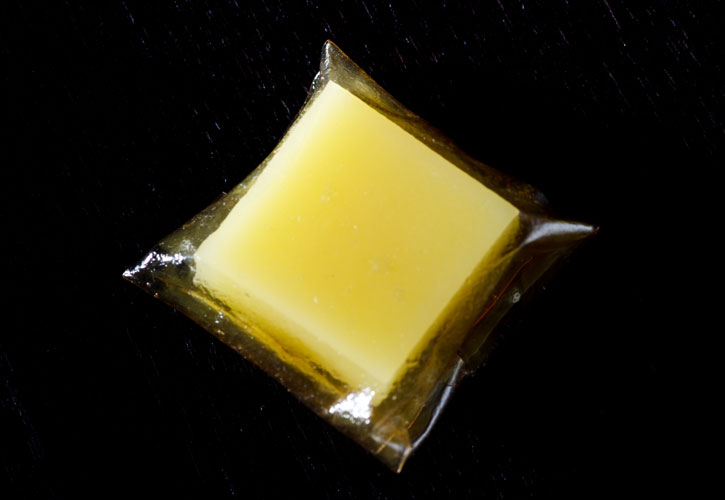 Ingredients
- 200 g (7 oz) pineapple Juice
- 1 g salt
- 2 dashes angostura bitters
- 24 g (0.85 oz) Pure-Cote B790
Preparation
Pineapple Glass
1- In a small pot, create a slurry with Pure-Cote B790 and a little pineapple juice.
2- Blend in the rest of the pineapple juice to disperse the starch.
3- Over medium heat, bring the mixture to a minimum of 71 °C (160°F) and hold for 10 minutes to allow the Pure-Cote B790 to hydrate fully.
4- Mix in angostura bitters and salt.
5- Pass through a fine sieve.
6- Spread on glass or acetate sheets, making a thin layer of about 1mm. Pour a small amount in the center and tilt the sheet or glass to spread the liquid close to the edges.
7- Let it dry on a flat surface at room temperature for 12 hours or more if necessary.
8- Carefully peel off the pineapple sheets from the acetate or glass.
Pineapple Glass Texture
- The sheets should be malleable when dried at room temperature. You can cut them with scissors.
- Place them in a dehydrator for a few hours to make them crispy. Then store them in a sealed container with desiccant packets.
- You can also wrap an ingredient with the pineapple glass when it is malleable and then dehydrate it to make it crispy. Keep in mind that the ingredient you wrapped should still taste good after the dehydration process. You can wrap powder fat or oil using tapioca maltodextrin for example.
In this case we wrapped a thin square of Emmental cheese with the pineapple glass but we didn't dehydrate it because the cheese would become greasy. Try this technique with other flavored liquids and fillings!