Candied Lemon Frost, Violet Ice Cream, Yogurt Snow, Flowers
This is another dish that 2-star Michelin Chef Jordi Cruz was generous enough to share with us. It's another grand adventure into molecular gastronomy and, as all of his dishes tend to do, brings together tradition and creativity in a manner truly unique to the young chef. This particular dish is part of his tasting menu at Rerstaurant Angle, located in Hotel Cram in Barcelona.
The elegant appearance and floral flavors of this dessert is the perfect final note for any meal. Though it will satisfy your sweet tooth, the sharpness of the yogurt and the acidity of the lemon juice work together to balance the sugary elements. Throw in the subtle nuttiness from the almond flour and the variety of textures that you experience from the flowers, the snow, the cookie and the ice cream, and you've got an incredible dessert!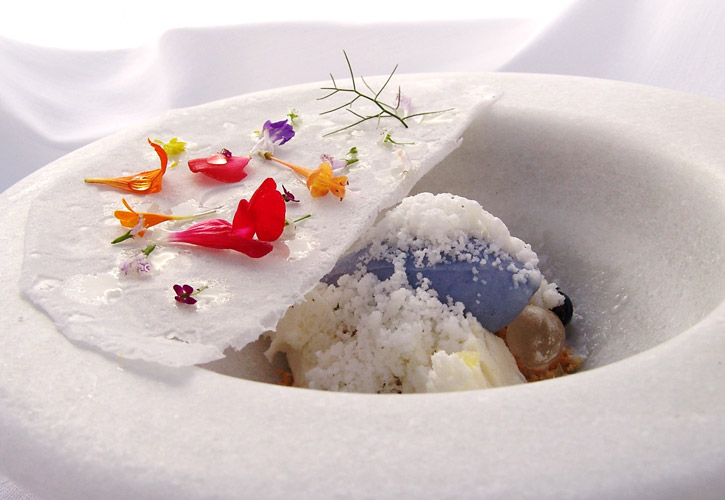 Ingredients
Yields 5 small servings
Lemon Frost Shingle Ingredients
- Rice paper or Ultra-thin edible film
- 125gr (4.41 oz) icing sugar
- 30g (1.06 oz) Lemon juice
Ingredients for Violet Ice Cream
- 1.5Dl (5 0z) Whole milk
- 0.5Dl (1.66 oz) Fresh cream
- 20gr (0.70 oz) Sugar
- 40g (1.41 oz) Azuleta Crystalized violet
- 7.5gr (0.26 oz) Dextrose
- 3gr (0.11 oz) Ice cream stabilizer
Yogurt Snow Ingredients
- 175gr (6.17 oz) Unflavored yogurt (cow or sheep)
- 113gr (4 oz) Mineral water
- 80gr (2.82 oz)  Sugar
- 4gr (0.14 0z) Lemon juice
Ingredients for Crunchy Cookie
- 50gr (1.76 oz) Butter, softened
- 50gr (1.76 oz) Brown sugar
- 50gr (1.76 oz) Flour
- 50gr (1.76 oz) Almond flour
Ingredients for Yogurt Cake
- 150gr (5.29 oz) Pasteurized egg
- 30gr (1.06 oz) Almond flour
- 10g (0.35 oz) Flour
- 30gr (1.06 oz) Yogurt powder
- 35gr (1.23 oz) Sugar
October Flowers and Nectar Ingredients
- 1 cup mixed flower petals: Salvia flowers mini "mealy sage", Lobelia "Lobelia Erinus", Mint "Calamintha nepeta", Begonia "Begonia sempreflorens", Agastache Apricot, Oregano, Basil, Mini pansies, fennel leaves.
- 63gr (2.22 oz) Floral honey
- 13gr (0.46 oz) Elderflower nectar
- 2 drops Essence of Jasmine
- 2.5 drops Natural Essence of Rose
Elderflower Candy Ingredients
- 25ml (0.85 oz) St. Germain elderflower liqueur
- 5ml (0.17 oz) Everclear
- 20ml (0.68 oz) Mineral water
- 60g (2.12 oz) Sugar
- 0.5kg (17 oz) cornstarch
Garnishes
- Several strips of candied lemon cut into 2mm cubes 2
- Several fresh blueberries cut in quarters
Preparation
Lemon Frost Shingle Preparation
1 - Mix sugar with lemon juice and stir well.
2 - Spread the rice paper or edible film over a nonstick surface.
3 - Cut rice paper to the desired size and brush with the lemon-sugar mixture.
4 - Carefully separate the paper for drying on a medium nonstick surface. Edible film is more delicate so leave it on same nonstick surface or it will break when you try to move it.
5 - Let dry completely at least 40 minutes at room temperature.
6 - Dry in a dehydrator at 55ºC (131°F) for 5-10 minutes.
7 - Set aside in a dry container or leave in dehydrator until you use it.
Violet Ice Cream Preparation
1 - Boil the cream and milk
2 - Add the crystalized violet and let boil until it reaches 85°C (185°F)
3 -Add dextrose and stabilizer
4 - Mature and allow to infuse for 8 hours.
5 - Filter.
6 - Place in the ice cream maker and process.
7 - Put it in the freezer a few minutes before use to further set.
Yogurt Snow Preparation
1 - Mix all the ingredients until the sugar is completely dissolved.
2 - Pass through a fine sieve into a container.
3 - Freeze in the Pacojet, freezer, or ice cream maker until it's ice.
4 - Reserve the snow on a plate in the freezer and make one portion at a time as needed.
Crunchy Cookie Preparation
1 - Whip the butter until very creamy.
2 - Add the other ingredients, being careful not to overwork.
3 - Spread onto a silpat to a thickness of 3-5mm (1.25-2 inches).
4 - Bake at 180°C (356°F) for ten minutes.
5- Let it cool and crush the dough with a rolling pin into small chunks.
6 - Reserve in an airtight, dry container.
Yogurt Cake Preparation
1 - Mix all the components in a food processor until they are perfectly integrated.
2 - Prepare cupcake cups.
3 - Fill the cups halfway and cook in a microwave at 600w for about a minute.
4 - Let it cool in the cups and with the help of a sharp knife, extract the cakes.
5 - When ready to serve, break 1 cake per serving with your fingers, forming pieces the size of a walnut.
October Flowers with Nectar Preparation
1 - Mix honey, nectar and essences until well integrated.
2 - Place the resulting nectar in a bottle with a fine point.
3 - Clean and disinfect the flowers and buds.
4 -When ready to serve, divide flowers and annoint one by one with a drop of nectar.
Elderflower Candy Preparation
This is the same cornstarch mold technique we used for our cherry vodka candy. Check that recipe for more details.
1 - Combine the water and sugar in a saucepan and cook until the syrup reaches 109ºC (228°F).
2 - Place the syrup in a glass bowl with liqueur and other alcohol.
3 - Blend well to prevent crystallization of the sugar.
4 - Spread cornstarch into a dish creating a layer no thinner than at least 2 cm.
5 - Compact mixture well and dry it in the oven at 50° (122°F) overnight.
6 - The following day, compact it again and fill small holes formed with the mixture with St Germain.
7 - Lightly sift cornstarch into a thin layer over the mixture.
8 - Dry in a dehydrator or oven at 40°C (104°F) about 4-8 more hours.
9 - Once the candy is done, brush off the extra cornstarch and reserve in an airtight container.
Assembly
This dish looks awesome in a white marble bowl with a flat, solid rim that will hold the shingle securely. Marble holds the cold extremely well but stoneware will work, too. Very "wintery" and classicly clean with the flowers adding a great contrast of color.
1 - Place a scoop or 2 of ice cream in cold marble dishes.
2 - Add a spoonful of crunchy cookie and a few pieces of cake yogurt over the ice cream.
3 - Scatter a portion of violets, blueberries quarters and diced candied lemon peel.
4 - Cover with yogurt snow.
5 - On the rim of the plate, put the lemon frost shingle.
6 - On top of the lemon frost shingle, scatter several different néctar-drizzled flowers according to its potency of flavor.
7 - Serve immediately.