Chef Jordi Cruz: The Creative Process Starts with Not Settling
Two Michelin stars, MasterChef España judge, author, chef- owner of not 1, but 2, Michelin-starred restaurants, and numerous other awards and accolades – that's quite a few accomplishments for a lifetime, but the young man that we're referring to isn't even 40 yet!  We're talking about the youngest Spanish chef to ever be awarded a Michelin star: Jordi Cruz.
Chef Jordi Cruz is not only an excellent molecular gastronomy chef, but also a very energetic, friendly and fun person. He is very passionate and dedicated to making his customers happy. "When I make a new dish, and the customer likes it, it is an excitement that is priceless. As a chef, that's the big prize, feel fulfilled."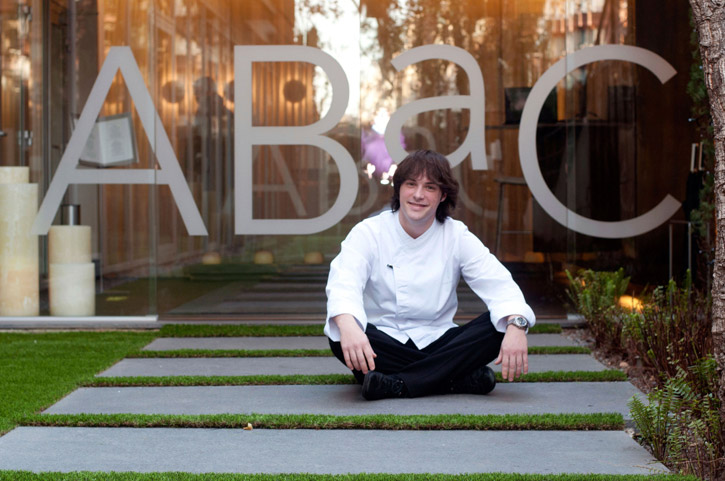 We had the pleasure of meeting Chef Jordi Cruz after service on a busy Saturday night. We arrived at 11pm and left around 2am after an enjoyable conversation and tasting some delicious dishes in the beautiful outdoor lounge area of his restaurant ABaC. Learn about how he became a great chef without staging at any restaurant, his creative process, how he runs his kitchen, what he thinks of spherification and how he became a TV celebrity.
Chef Jordi's Creative Desserts
What better way to know a chef than to take a look at some of his dishes? Well, probably tasting them is the best but hard to do that through these pages so I'll give you as many details as I can! And hopefully this motivates you to visit AbaC in Barcelona to really know Chef Jordi. Here are some of the magical desserts we tried that night. But this is not all, Chef Jordi has shared with us some of his best recipes so stay tuned for more delightful dishes that you'll be able to make yourself including his famous Liquid Parmesan Gnocchi with Mushroom Infusion.
Begonia's Pink Panther
Bringing memories of childhood, a fresh pre-dessert inspired by a traditional Spanish cake called Pantera Rosa (Pink Panther) Chef Jordi used to enjoy when he was a child. Pink Panther ice cream made with white chocolate, roses, red currants and yoghurt, a sponge cake of yoghurt and red currants (made with the microwave sponge cake with iSi Whip technique), white chocolate ganache, fresh strawberries and wild strawberries, begonia's petals and orange peel. A very fresh and citrusy dessert.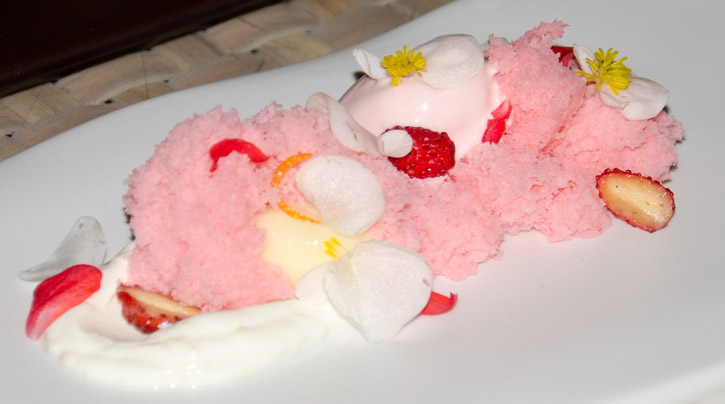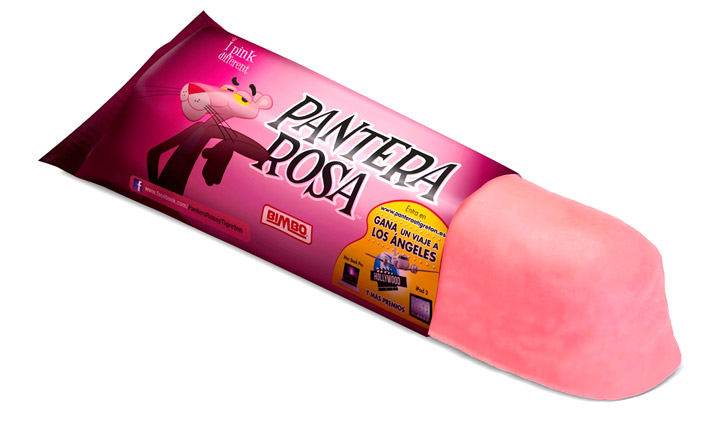 Smoky Soil, Bananas, Coffee, Vanilla and Bourbon
This dessert is basically deconstructed bourbon with the basic flavor components of bourbon: coffee, vanilla, banana and cocoa. These flavors are represented by caramelized bananas, roasted biscuit crumbs (smoky soil), coffee butter, ice cream made with a bourbon wood infusion, bourbon candy with liquid filling (made using the corn starch mold technique), cocoa cremeux and a caramelized bourbon vanilla cake with crème brûlée (whiskey cake). All are spritzed at the table with more bourbon. The whiskey cake is 'smoked' at the table with a bourbon wood infusion mist generated by the liquid nitrogen. These aromatization at the table is a great way to start the experience of this decadent bourbon dessert. The caramelized cake is then incorporated into the main dish.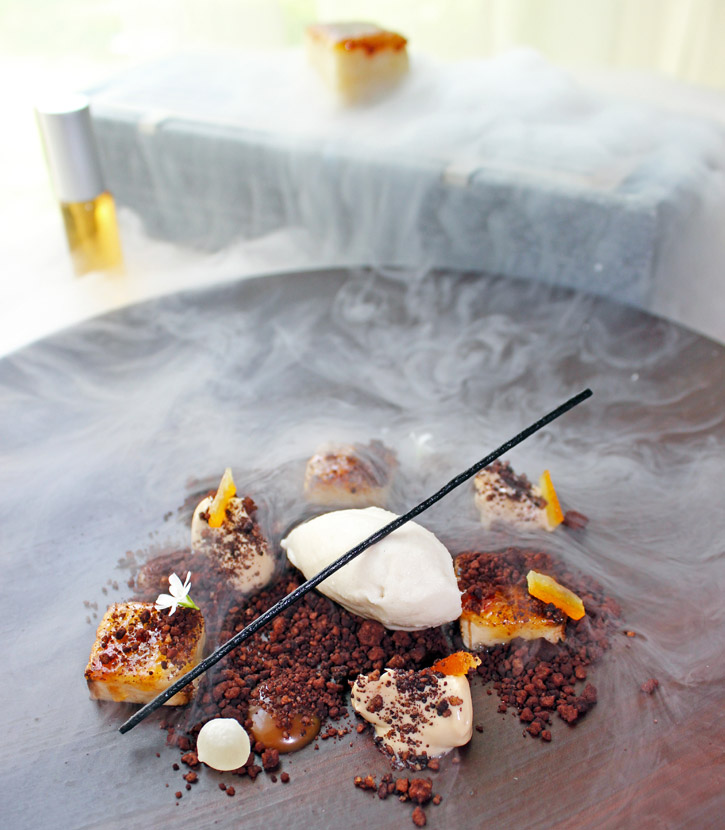 Chocolate and Cocoa with Hazelnuts, Coffee and Vanilla
This was a very new dessert served for the first time that night. Chef Jordi was looking for a very powerful but at the same time smooth and light dessert. The dessert is based on the three basic flavors of chocolate which are coffee, vanilla and hazelnut. These are represented by a bonbon foam (chocolate and brandy ganache), soil of cocoa and hazelnut, cocoa sorbet, handkerchiefs / leaves of cocoa, coffee and vanilla, frozen rock of toffee and hazelnut praline.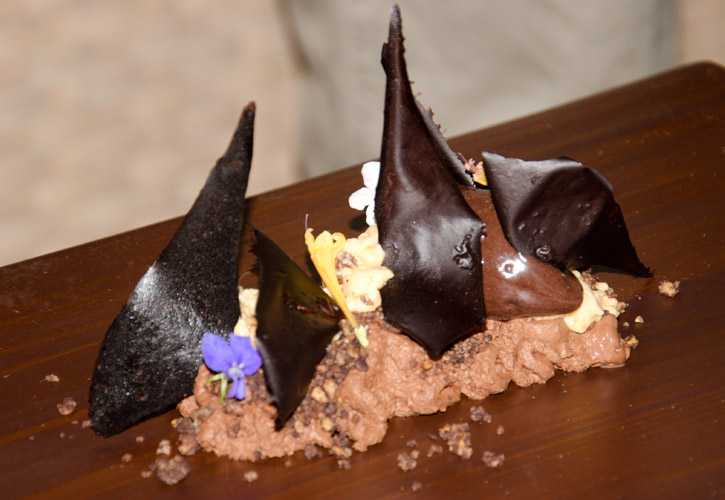 Lipstick of Raspberry Popsicle
As part of the delicious petit fours, we were served an innovative and fun lipstick of raspberry popsicle. A great fun way to end the meal.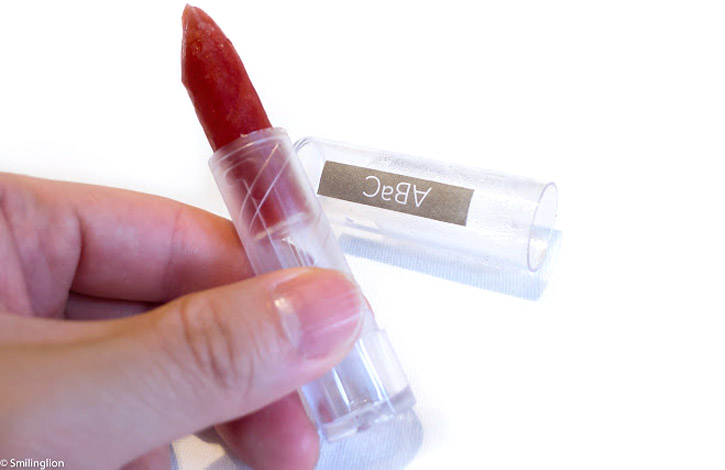 The Motivation that Drives the Brilliance
Currently the owner of molecular gastronomy restaurants ABaC and Angle, both in Barcelona, Chef Jordi is content. When asked what drives him, he's quick to tell you that it's the process, and making people happy.  He's been offered the opportunity to lead many restaurants and even to open up more in his own name, but that's not his goal.
He believes that the soul of a restaurant comes from the chef who has the passion to make it great, every single day. That can't be done if the chef isn't in the kitchen, creating new dishes on a regular basis and motivating the team. "When a customer comes into the kitchen and tells me, I loved this dish, I tell them, it's that guy over there who made it. I try to be an example." says Jordi. He doesn't believe in getting too comfortable; if he isn't creating a new dish every few days, he becomes restless and discontent until he does so.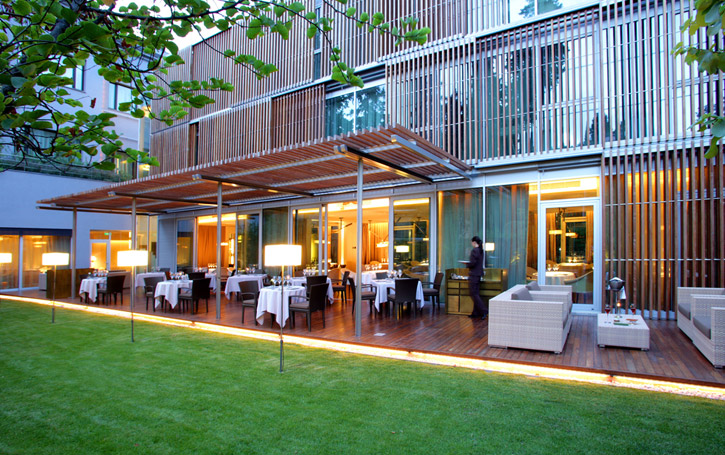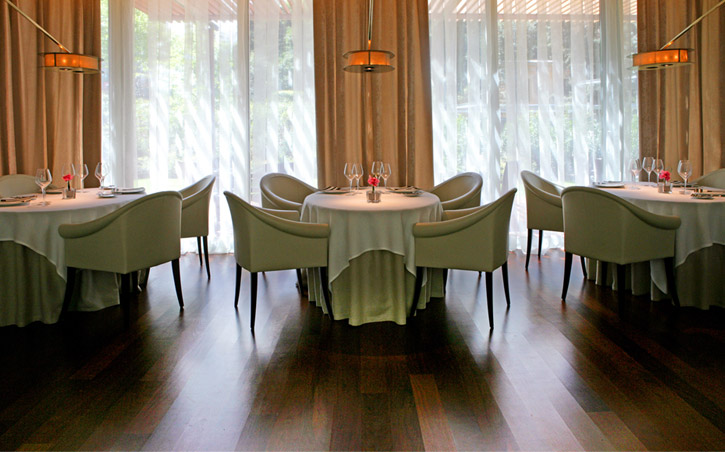 Jordi Cruz knows his management limit, and he believes that he's reached it. "I can do this with my two restaurants because they are now 5 minutes away but I know my management ceiling and I have reached it." He refuses to put his name on a dish he doesn't cook, no matter how much money he could make from it. "I don't believe in that. I don't want to be a millionaire, I don't want to be Ducasse nor I want to have 35 restaurants.  I only want to be happy and right now I am."
"I didn't have the luck to do a stage"
Chef Jordi's experience hasn't been built by staging at famous restaurants as many chefs have. He's only worked in three kitchens; thus his growth as a chef has been a fluid experience gained from trial and error. "I didn't have the luck to do a stage. I like to keep what is positive and discard what is negative, ephemeral. Those who have done many stages have the benefit of having done many stages. Lots of information, sharing experiences with other chefs, different ways of cooking and organizing a kitchen. I had the luck to find people that gave me the freedom and opportunity." explains Jordi.
"Today getting information is not so difficult if you know how to listen. So I have access to the information but not a direct influence from a Ferran or Andoni who have a way of thinking that will get fixed in your head. I feel I have my own way of thinking and originality." says Chef Jordi. He thinks it is important to know what everyone is doing, so you have all the information, you don't repeat and you have all the tools to execute your own idea.
"I wished I had made a stage but was lucky that the chefs I admired when I was a kid are now my friends." He believes that if he had worked under their tutelage, he'd have to wonder if his creations were his own or if he was simply imitating them. This way, he knows that each and every dish comes straight from his own brain.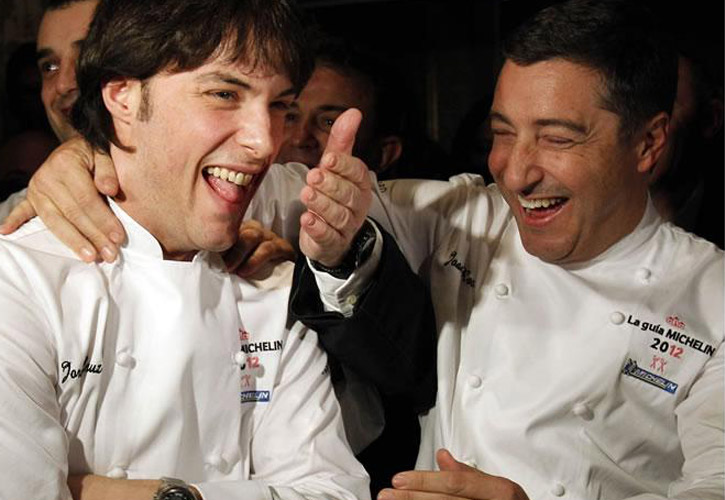 Jordi Cruz's Journey to Molecular Stardom
Chef Jordi Cruz has been refining his style since his first dish of potatoes and kidney beans that he cooked for his sick mom when he was 7. She told him then that he was going to be a chef, and he's held true to that prediction.
He got his first taste of restaurant life at 14, when he started working at Cercs Estany Clar. He studied at the Escola Superior de Hosteleria Joviat in Barcelona and continued to work at Cercs Estany Clar, where he earned his first Michelin star at the age of 24. He was the youngest Spanish chef and the second youngest chef worldwide to ever be awarded the prestigious distinction.
Since then, he's earned another star along with a myriad of other distinctions including Young Chef's Spanish Championship in San Sebastian and the Championship of Spain Award for Young Values, Ciudad de Marbella. He also won the first edition of "Chef of the Year" from the CCA and is now Vice President of the voting committee.
After more than a decade, Chef Jordi left the Estany Clar to become the manager and head chef of Angle in 2007. The very next year, the restaurant was awarded a Michelin star, which it still holds. In 2010, he took over ABaC Restaurant and Hotel and he now owns them both. ABaC was named Best Restaurant in Catalonia just a year later, then in 2012, it was awarded 2 Michelin stars, which it has maintained in 2013. It's now one of the top gastronomic restaurants in the city.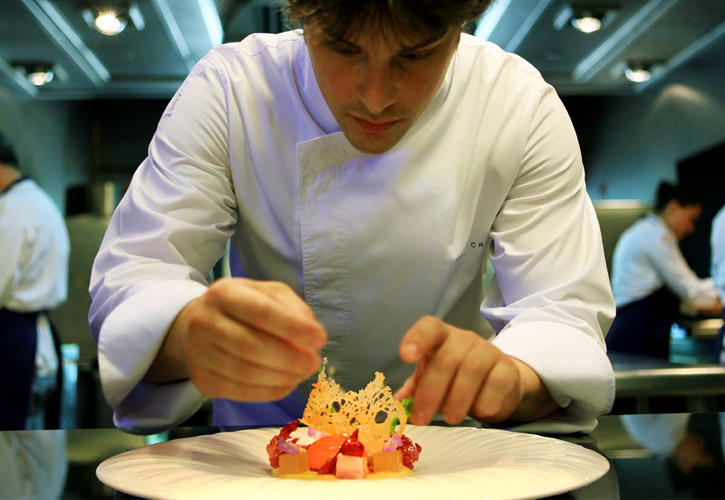 Feeding the Creative Beast and the Secret to His Success
"The creative process starts with not settling. If every 3 days I am not doing a new dish there is something inside me that eats me, makes me uncomfortable. It is an attitude thing: of being all day thinking about creating new dishes." says Chef Jordi.
"Once you have that restlessness, that discomfort, there are several processes to create new dishes starting  from the tradition, the product, the nationality, the technique, looking at dishes you made last year and reinterpreting them with what you have learned, from tasting a flower and saying 'wow this acidity!' and constructing something from this." explains Chef Jordi.
Don't think that his success put him at ease or made him lazy, though; Chef Jordi doesn't take days off. Ever. No holidays. No weekends. No sick days. And he hasn't since he was 14. "I have been since I was 14 years locked in a kitchen, literally and consciously ..." Chef Jordi says. He contends that while his friends were all out partying it up, he was working his tail off doing what he loves. The awards, accolades and accomplishments are all results of his drive and his unbending desire to become the best he can be. "Life is much more than the first 10 years, it lasts to 70, 80, 90, God willing. I want to enjoy myself a lifetime and with 10 years old I thought like this." says Jordi.
Creativity is an innate part of who Chef Jordi is, and when you combine his drive with his creative brilliance, you have a combination that's tough to beat. He states that bad chefs use hydrocolloids and techniques such as spherification as fireworks, but that doesn't work for him. Instead, for example, he uses spherification to make two broths in one broth, separating the liquids by encapsulating one in a gel membrane. "This is for me the great use of spherification, to separate two liquids in one liquid and that you can dissociate both in the mouth." Chef Jordi says. He uses this technique in his Liquid Parmesan Gnocchi with Mushroom Infusion shown below.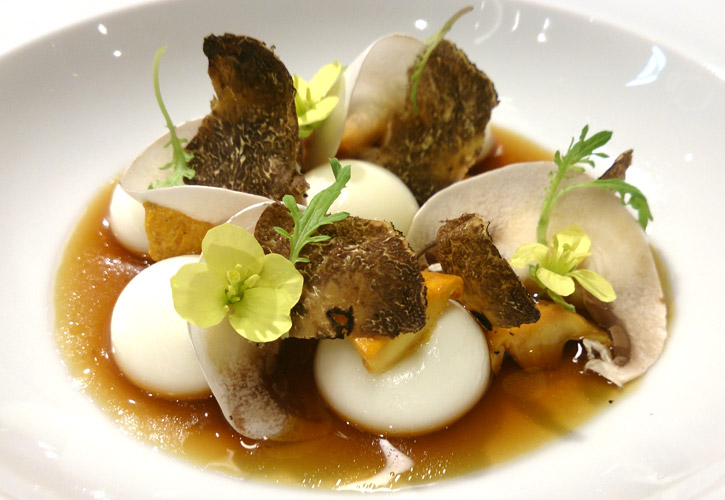 His creative process differs from that of Chef Ferran Adria or the Roca brothers.
"Ferran Adria has charts that he uses to create combinations of ingredients. He industrialized creativity! He hired a person who wrote everything he did. The rest, we cannot do that. Who follows closely is Chef Joan Roca [#1 Restaurant in the World, El Celler de Can Roca] and differs in that there is not one but three Roca. Josep is not just a good sommelier, he is the best and has a scary palate of platinum and Jordi polishes with his spark. I can have a good chef but he receives a better offer and leaves. The Roca brothers are related; they're family and therefore stuck with each other!" says Chef Jordi.
Chef Jordi Cruz's creativity comes from his ingredients and his knowledge, and he kind of likes it that way! He shared a few recipes with us and he explained the creative process behind them. So stay tuned to learn more about his magic.
The Merging of Tradition with Modern Techniques
Chef Jordi describes his food as "evolutionary and restless, based on the product and where creativity and tradition are merged." When we asked him if he thought that modern cuisine and tradition could coexist, he stated that it absolutely could. As a matter of fact, his dishes are often modern extensions of traditional dishes. "If you come to ABaC, you'll see that there is no conflict between tradition and modern. Both feed from each other. Tradition is what we made yesterday and modern is what we are trying to make new." says Chef Jordi Cruz.
Take for example his Bloody Mary Snow (shown below). It's a riff on a traditional Bloody Mary that originated when he tasted Clamato, a commercial product of tomato juice with clam juice in it. It spawned the idea for his seafood Bloody Mary Snow dish. It's playful and, according to Chef Jordi, has no gastronomical value, but it's a great way to start a meal. And it all started with an old favorite. "This is a traditional dish, a Bloody Mary. We have added some personality and technique, but what you taste is just a traditional Bloody Mary."
He often gets inspiration from traditional dishes and loves incorporating the flavor of his country into his modern dishes. Fresh local produce and a brilliant mind driven to constantly create are his best tools, and ones that he uses regularly to keep the creative process flowing.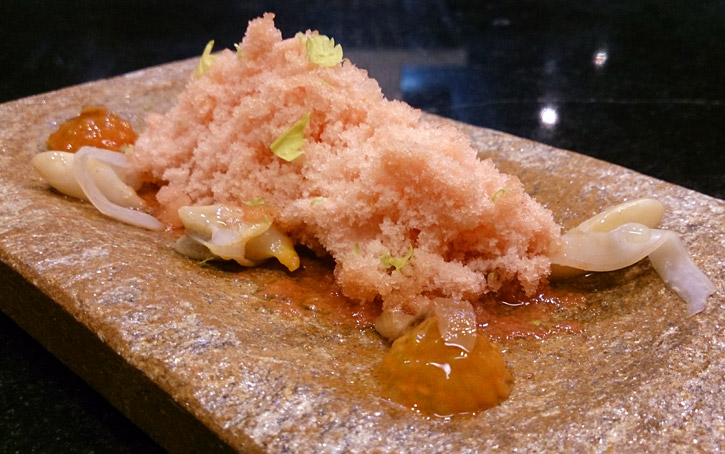 How He Got Us to Eat the Table Bouquet and Lawn Clippings
"We normally combine flavors in two ways, for example asparagus with ham or melon with ham." Chef Jordi explained the concept of the third ingredient which he adopted from Japanese chefs a few years ago. "Japanese triangle flavors. There is a principal flavor, one that pairs and a third mysterious ingredient that is a tip of flavor. You may not even realize that the flavor is there but it completes the dish." explains Jordi.
"How do you come up with the third ingredient? Let's say you like the combination of coconut and lemon. So you make a coconut foam, a yogurt sponge cake and you want to add some acidity without being blatant. What do you know that has a clean acidity?" asked Jordi. I gave him a few options and while I was speaking he grabbed a flower from a planter next to our table and told us to eat it. It was a begonia and it tasted really good with a clean acidic profile. He then gave us the leaves, and they tasted as good.
Chef Jordi then left the table and went looking in the grass in the dark of the night.  We thought that perhaps he'd lost something and even some of the waiters were approaching to help him. Instead, he bent over and picked a small trebol that was growing in the grass. He was foraging! He brought it back and told us to taste it. "It is oxalis acetosa, the only edible trebol and it is super acid." I think it was wood sorrel and it sure was acid.
He explained that the tools are all around you; you just need to have the knowledge!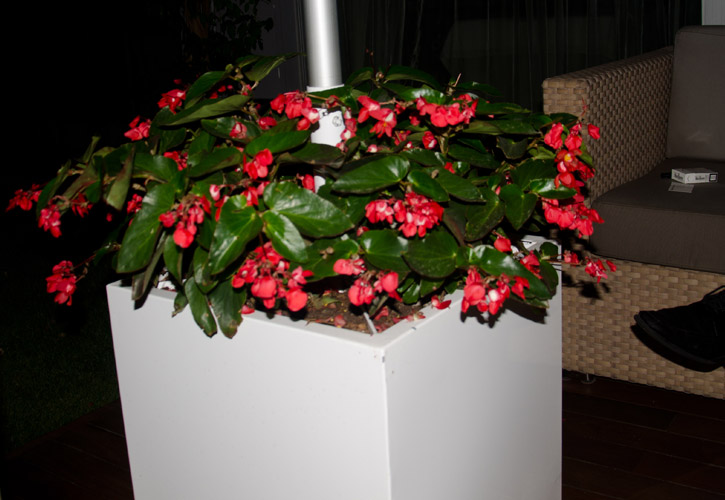 The Father of Cryofiltration
Chef Jordi loves consommés. In his own words, "I am a very liquid chef. I really like making good consommés, broth and sauces." In his never-ending search for ways to explore flavors and ingredients, he decided to freeze some goat juices in ice cream buckets then thawed them in the fridge. He noticed that it separated into two parts; one cloudy and one extremely clear. This gave him the idea to try it with broths and other liquids.
Cryofiltration simply involves freezing your product, (you can do it with just about anything – broths, fruits, veggies, anything) then defrosting it in the fridge placing it on a filter or cheesecloth with a container underneath so that as it defrosts, the liquid seeps through the filter and the more solid parts stay on top.  This is actually the process that he uses to create the mushroom broth in one of the dishes that we tried, his Liquid Parmesan Gnocchi and Mushroom Infusion.
Superchef Turns MasterChef
When the hit TV show MasterChef made its debut in Spain in 2013, Chef Jordi was one of the three original judges. And as if his presence was not enough, Chef Jordi brought awarded chefs Martín Berasategui, Jordi Roca and Paco Torreblanca to the show. It was a real pleasure for all the viewers and the participants.
He loved it, mostly because they allowed him to be himself, and because it's educational. "One of the reasons I accepted to participate in MasterChef is because I can take it as a micro-vacation. I laugh a lot, I get to know people and I can try a profession that is not mine. It enriches me." Chef Jordi does it because he enjoys it but it's also good publicity for his restaurants; the show does, after all, have over 9 million viewers!
But does Chef Jordi take time off to shoot? Nope – he does it on holidays so that he doesn't lose time in the restaurant. That's not surprising, though. Just because he's now considered one of Spain's top TV personalities – he's reached sex-symbol status with his fans! – he's still just a chef at heart. Though humble and generous, his creativity and his dedication to his food is without a doubt his most awe-inspiring traits.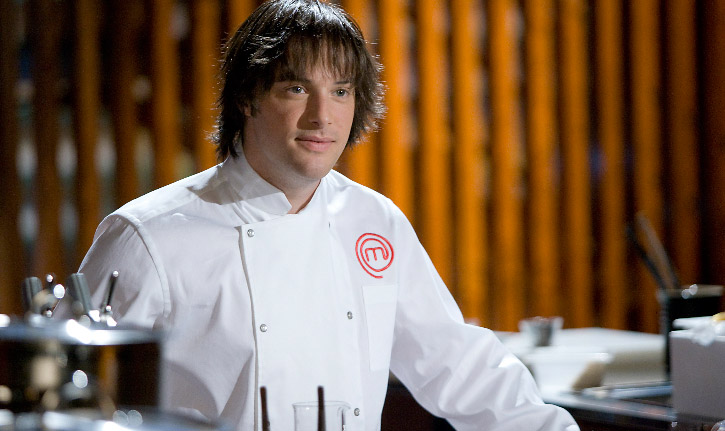 Whether you're eating a Bloody Mary snow with seafood, sipping a mushroom consommé with liquid parmesan cheese spheres, or munching on a Begonia from one of his masterful desserts, one thing's for sure. You're not going to be disappointed because whatever you eat, it's going to be fresh, it's going to be original, and it's going to be 100% pure Chef Jordi. If you love it, stop into the kitchen to tell him so – he loves hearing it!
Thank you, Chef Jordi, both for your time, sharing your recipes and for being the chef that you are!
Find recipes from Chef Jordi Cruz here.