Bloody Mary Snow with Seafood
This zesty dish is a playful take on the traditional bloody Mary. Molecular gastronomy Chef Jordi Cruz offers it as a starter on his tasting menu at his 2-Michelin-Star restaurant, ABaC in Barcelona. There's nothing serious about this dish. As a matter of fact, it's meant as a joke – a lighthearted way to break the tension of the day and prepare for a relaxed, delicious experience. That's actually ABaC's style: meals start with a little bit of frivolity and rock-n-roll, then get down to business with later courses. One thing that's not a joke, though, is Chef Jordi's attitude toward providing a stellar dining experience to each and every guest. It's no accident that he was the youngest Spanish recipient of a Michelin star at age 24.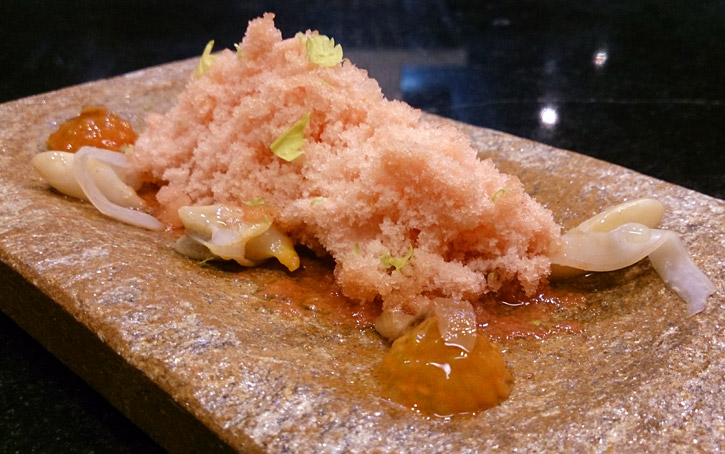 His avant-garde influences and his dedication to tradition and quality ingredients ensure that if you visit ABaC, your experience will be unforgettable. "The creative process of this dish started with a product" says Chef Jordi Cruz. When he tasted Clamato, a commercial product of tomato juice with clam juice in it made by Mott's, it spawned the idea for his Bloody Mary Snow with Seafood dish. He first thought about giving the Bloody Mary a new interesting texture, and he came up with the idea of making it like snow with a PacoJet. Then he simply added some high-quality fresh seafood, seasoned tomato seeds, celery, lime zest and virgin olive oil. And it all started with an old favorite. "This is a traditional dish, a Bloody Mary. We have added some personality and technique, but what you taste is just a traditional Bloody Mary." His dishes are often modern extensions of traditional dishes. "If you come to ABaC, you'll see that there is no conflict between tradition and modern. Both feed from each other. Tradition is what we made yesterday and modern is what we are trying to make new." says Chef Jordi Cruz. Thanks, Chef Jordi, for sharing your fun dish with us! Yields about 4 servings
Ingredients
Bloody Mary Snow Ingredients
- 1 liter (33.81oz) tomato juice or Clamato
- 50ml (1.69oz) vodka
- Juice of 1 lime
- 1 teaspoon Worcestershire sauce
- 10 drops of Tabasco sauce
- pinch of salt and pepper
Shellfish Ingredients
- 1 liter (33.81oz) mineral water
- 80g (2.82oz) salt
- 12 cockles
- 4 razor clam
- 8 anchovy slices
Tomato Seeds Ingredients
- 12 large cherry tomatoes
- 1 teaspoon olive oil
- Pinch of salt and pepper
Garnish
- 12 celery leaves
- Lime zest
- Virgin olive oil
Preparation
Bloody Mary Snow Preparation
1 - Mix all ingredients and let them freeze at least 12 hours in the freezer.
2 - Right before serving, use a PacoJet to create the snow. Without a PacoJet, it is hard to obtain snow consistency but you can make a fine granita. To do this, while the mix is in the freezer, occasionally scrape it with a fork to create a flaky consistency for the Bloody Mary Snow. You can also use an ice cream maker to make a sorbet and make it fluffy with a fork.
3 - Serve immediately.
Shellfish Preparation
1 - Add the salt to the water and boil.
2 - Open the cockles in the boiling water and cook the razor clam for no more than 30 seconds.
3 - Cut the anchovies into small strips and cut the prime cuts of razor clams in strips 1-2cm wide.
Cherry Tomato Seed Preparation
1 - Cut the very end of the tomatoes off and squeeze out the seeds.
2 - Set the seeds aside is small bowl.
3 - Drizzle the seeds with olive oil.
4 - Sprinkle with salt and pepper.
5 - Toss and set aside.
Assembly
1 - Divide the cockles, razor clams, anchovy and tomato seeds into 4 serving dishes, forming a circle.
2 - Put a large scoop of Bloody Mary Snow at the center.
3 - Garnish with a few white and very tender celery leaves, lime zest, and a trickle of virgin olive oil.
4 - Serve immediately