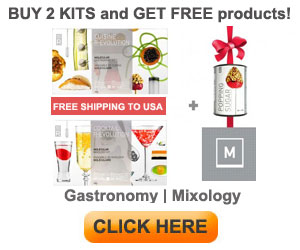 The arugula spaghetto is a 2 meter (6 feet) spaghetto or noodle made of jellified arugula water using agar agar as the jellifying agent. It is very easy to make and it only requires a syringe, PVC tubes and agar agar. The agar agar spaghetti technique was created by Ferran Adria and El Bulli team.
Arugula Mix Ingredients
- 2 cups fresh arugula
- 2/3 cup water
- 1 small shallot
- salt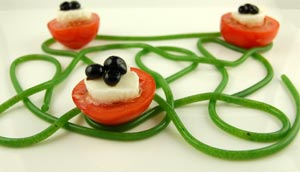 Arugula Spaghetto Ingredients
- 200 g (7 oz) arugula mix
- 3.2 g Agar Agar
Preparation
Blend arugula, peeled shallot and water in a blender to obtain a very smooth liquid. Add salt and pepper to taste.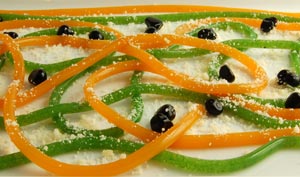 Get ready the PVC tubes of 0.5 cm in diameter and 2 m long and 1 syringe with a nozzle 0.3 cm in diameter ready. Read Agar Agar Spaghetti if this is your first time making agar agar spaghetti.
Put the liquefied arugula in a saucepan, dissolve the agar agar and bring it to the boil, stirring constantly with a beater. Take off the heat and skim to eliminate any impurities. Fill the syringe and with it fill the tubes, which will have been rolled and secured with a little adhesive tape for greater comfort. Submerge the full tubes in cold water so that the liquefied arugula sets in a few minutes.
With an empty syringe, inject air into the tube to obtain the spaghetto. This is probably the most difficult part of the recipe unless you have an ISI Whip with the Agar Spaghetti adaptor (read Agar Agar Spaghetti for tips and more information on the Agar Spaghetti Kit). The resulting spaghetti can be served hot or cold.
Serving Suggestions
- Serve arugula spaghetto with fresh cherry tomatoes cut in halves, a slice of fresh mozzarella and balsamic vinegar pearls.
- Serve arugula spaghetto with tomato spaghetto, balsamic vinegar pearls and grate fresh parmesan cheese on top.
Recipe adapted from www.molecule-r.com