Lavender Honey Ice Cream
This decadent lavender honey ice cream is simply delicious by itself or to complement a dessert. According to Foodpairing®, honey and lavender pair perfectly with tomato juice, bergamot, mandarin, basil, nutmeg, port and aji amarillo. So get your imagination going and come up with an innovative dessert!
Have you taken our free Ice Cream Class? We are going to use this recipe to show you how you can adapt one of the ice cream base recipes from our ice cream class to create your own ice cream flavors. In this case we'll use the thick and decadent base, why not?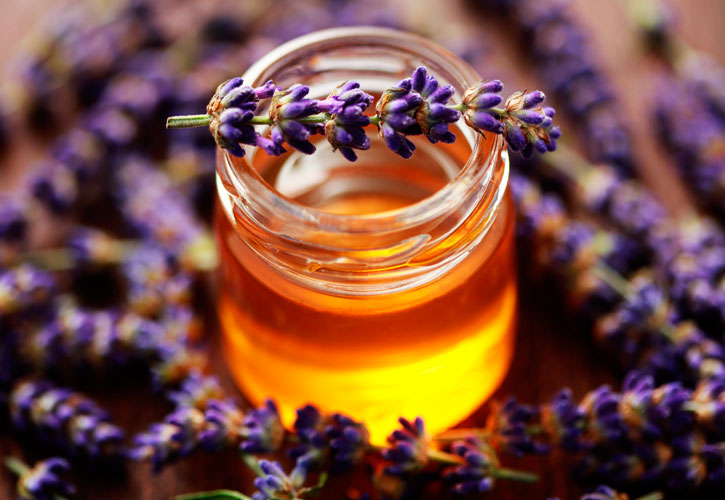 Thick and Decadent Ice Cream Base
To introduce the lavender flavor, we are simply going to infuse the milk and cream with lavender flower buds. You can use this technique to flavor your ice cream with most aromatics.
To introduce the honey flavor we are going to substitute the sugar (sucrose) with honey. As you learned in the Ice Cream Class, liquid honey is about 80% glucose and fructose and its sweetness is about the same as sucrose. So we can use the same weight of honey to replace the sugar (130g) and obtain the same sweetness. But honey contains about 15-20% water. To compensate for this, we are going to reduce the amount of milk, which is 87.5% water, by 20% of the honey weight to obtain an ice cream with approximately the same water content.
20% of the weight of honey is 0.2 x 130g = 26g --> therefore we'll use 245g - 26g = 219g of whole milk instead
Lavender Honey Ice Cream Ingredients
Preparation
1- Heat the milk, cream, honey and lavender  with the ice cream stabilizer in a pot to 82 °C (180 °F) to ensure hydration of the ice cream stabilizer. Whisk regularly to disperse and hydrate the stabilizer. Put aside and let the temperature drop to 60 °C (140 °F) before mixing with the egg yolks so they don't coagulate.
TIP: The ChefAlarm thermometer is great for this. It easily attaches to the pot with the clip and you can set a High and Low temperature alarms so you are free to work on something else without worrying about going above or below the desired temperature.
2- While you wait for the temperature to drop and the mix to infuse with the lavender, whisk the egg yolks for 5 minutes in a bowl until they are pale yellow.
3- Once the temperature of the milk and cream mix dropped to 60 °C (140 °F), pass it through a fine sieve to remove the lavender flowers.
4- Slowly pour the heated milk and cream over the egg yolks while stirring.
5- Return the new mixture to the pot and heat to 70 °C (160 °F) to cook and pasteurize the egg yolks. Maintain the mixture at this temperature for 20 minutes. Stir constantly. It is very important not to go over this temperature or your eggs will start coagulating and the resulting ice cream will have a stronger egg flavor.  If you have a Sous Vide immersions circulator, you can place the contents in a sealed bag and heat it in a bath set at 70 °C (160 °F) for 30 minutes.
6- Pass the mixture through a fine sieve and cool it in an ice bath.
7- Refrigerate overnight. We are aging the ice cream to obtain a more stable foam during the churning process.
8- Transfer the mixture to an ice cream maker and follow the instructions of your equipment. For home use, we have the Breville Smart Scoop and it works great! If your ice cream maker permits, cool it to -5 °C (23 °F). You can always use the dry ice method to obtain great quality ice cream at home. Store in the freezer to harden until serving time.