Ultra-thin Shrimp Tortilla
This ultra-thin and crunchy tortilla is packed with strong ocean flavors. Inspired by molecular gastronomy Chef Dani García from restaurant Calima in Spain, the tortilla is made with fried ultra-thin edible film, dried nori powder, dried shrimp powder and fresh shrimp.
This is another great application of ultra-thin edible films. In this recipe we show you how to make the ultra-thin edible film crunchy by 'gluing' a few films with egg white and then frying them for a few seconds. The possibilities are endless and you can use this technique as a base for a wide variety of flavorful appetizers with a modernist twist. Its lightness will not only surprise your diners but will also allow the toppings' flavors to be the star of the dish.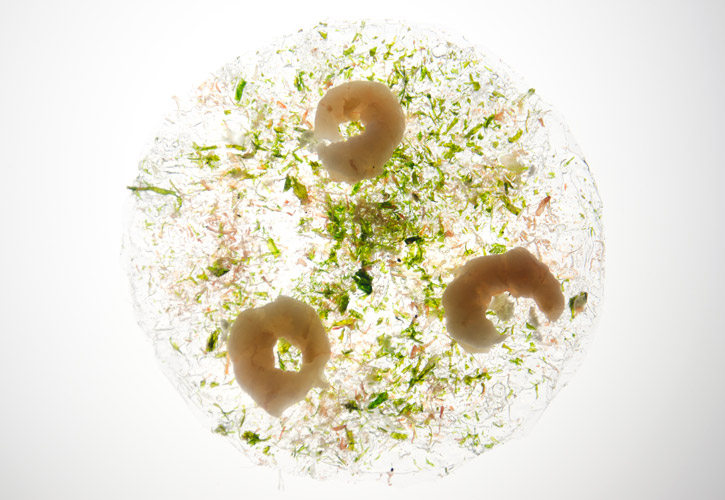 Get some edible film and create the ultimate modernist canapé!
Ingredients (4 servings)
- 12 round ultra-thin edible film
- 1 egg white
- 1g dried nori powder
- 1g dried shrimp powder (process dried shrimp in spice grinder)
- 1g Methylcellulose
- 12 small fresh shrimp
- Canola oil for frying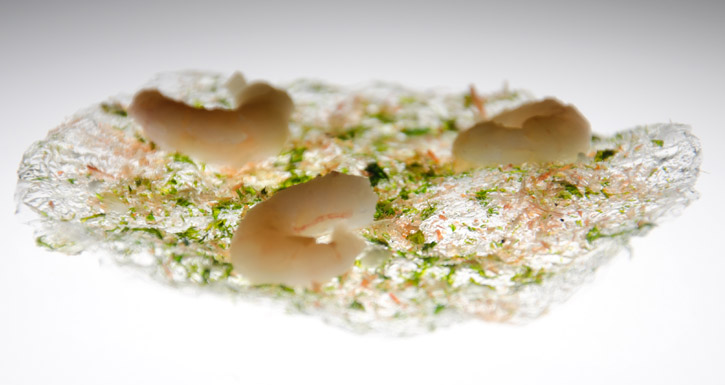 Preparation
Tortilla Base
1- Place a round ultra-thin edible film on parchment paper.
2- Using a small brush, lightly coat the edible film with egg white with strokes from the center to the edge of the film.
3- Carefully lay another edible film on top, making sure the edges align.
4- Repeat step 2 and 3 one more time so you have 3 layers of edible film 'glued' with egg white.
5- Sprinkle the top with dried nori powder.
6- In a pot, heat canola oil to 200 °C (400 °F).
7- Carefully lift layered edible films from the parchment paper using a small metal spatula and fry it for 10 to 20 seconds until crispy.
8- Remove crispy edible film and place it on paper towels to absorb any excess oil.
Assemble and serve
1- Sprinkle dried shrimp powder on the fried edible film.
2- Place 3 small dots of methylcellulose to hold the shrimp in place.
3- Place one fresh shrimp on top of each methylcellulose dot.
4- Serve immediately.