Prosciutto Chips, Onion Foam, Roasted Brussels Sprouts
Crispy and translucent Prosciutto chips that can be used as a base for a wide variety of canapés or as a garnish. In this recipe, the modernist Prosciutto chips are topped with onion foam, roasted Brussels sprouts and balsamic vinegar glaze. A classic combination of flavors that taste deliciously.
The Prosciutto chips are made by rolling thin slices of Prosciutto to create a roll which is then frozen. The frozen roll is then cut into thin slices using a meat slicer. And finally, the slices are dehydrated until they become crispy. You can also try this technique with other meats.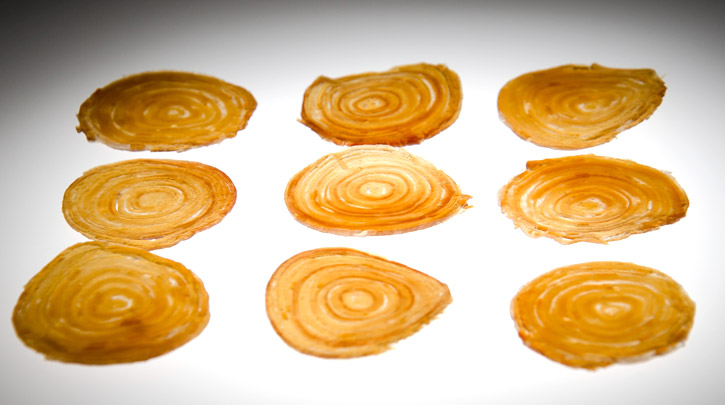 Freezing meats is a technique used in modernist cuisine to facilitate cutting them into wafer thin slices or shave them with a microplane. Using this technique you can freeze smoked salmon or foie gras to easily create shavings for example.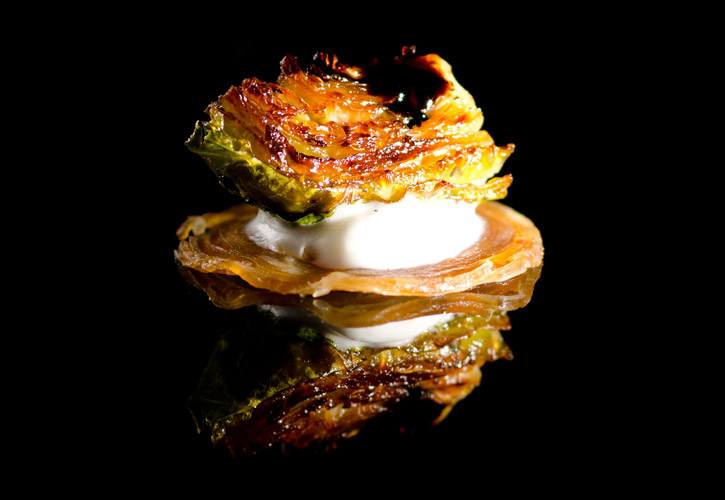 Ingredients (about 40 canapés)
Prosciutto Chips
- 200 g thin Prosciutto slices
Roasted Brussels Sprouts
- 20 Brussels sprouts
- Olive oil
- Salt and pepper
Onion Foam
- 1 cup cream
- 1 large onion, chopped
- salt
Other Ingredients
- Balsamic vinegar glaze
Equipment
- Meat slicer
- iSi Whip
- Dehydrator
Preparation
Prosciutto Chips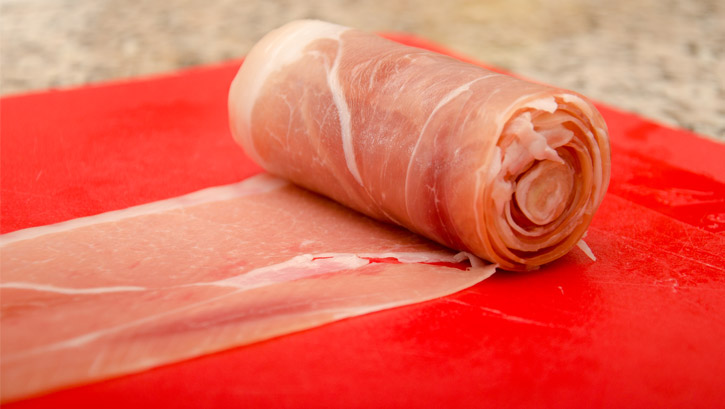 1-Lay one Prosciutto slice on a cutting board and roll it very tightly with your hands, making sure you don't leave a hole in the middle of the roll. Start rolling from the short side of the slice.
2-Lay another Prosciutto slice on the cutting board, place the roll you created previously on one end and roll the second slice tightly around it.
3- Continue adding slices until you obtain a tight roll of prosciutto about 4.5 cm (1.8 in) in diameter.
4- Wrap roll tightly in plastic wrap and freeze overnight.
5- Once roll is completely frozen, cut thin slices of about 2 mm thick using a meat slicer.
6- Before they thaw, carefully place the slices on a silicone mat that fits your dehydrator tray using a small metal spatula. If the outer layer of the Prosciutto slice separates, just push it tightly with the spatula once the slice is on the mat.
7- Dehydrate the Prosciutto slices at 65 °C (150 °F) overnight or until crispy.
8- Store Prosciutto slices in a sealed container with desiccant packets until serving time.
Onion Foam
1- Bring to boil cream and chopped onions. Season with salt.
2- Remove from heat and keep covered for 1 hour to let the cream infuse with the onions.
3- Using the iSi funnel and sieve, pour the mixture into an iSi Whip or Culinary Whipper with straight nozzle.
4- Screw 1 N2O cream charger (2 if using 1L iSi Whip) and shake 3 times.
5- Let it rest at room temperature for an hour before serving. If you need to store it for a longer period, place it in the refrigerator but remove it an hour before serving time.
Roasted Brussels Sprouts
1- Preheat your oven to 230 °C (450 °F).
2- Cut Brussels sprouts in halves or into quarters if they are large.
3- In a bowl, toss Brussels sprouts with olive oil, salt and pepper.
4- Lay the Brussels sprouts on a roasting pan in one layer with one of the flat sides touching the bottom of the pan.
5- Roast them on your topmost oven rack for 20 minutes, checking and flipping them halfway through. Your roasted Brussels sprouts should have charred bits along the edges and a nice golden brown color on their flat sides.
6- Remove roasted Brussels sprouts from the oven and cover with aluminum foil to keep warm.
Assemble and Serve
1- Pump a little onion foam on the Prosciutto chip.
2- Place a roasted Brussels sprout on top. Cut it if necessary.
3- Drizzle with balsamic vinegar glaze.
4- Serve immediately.