Blue Cheese Foam Sequence (Anti-Griddle recipe)
The blue cheese foam sequence stimulates the senses with a variety of flavor pairings, temperatures and textures. The blue cheese foam is paired with walnuts, celery, port, pears and grapes. This amuse-bouche has a brittle bottom and a creamy top thanks to the Anti-Griddle (a molecular gastronomy equipment made by PolyScience). This is an Anti-Griddle recipe but you can inexpensively do this at home with similar results. (read Anti-Griddle at Home). For an extra twist, the grapes are carbonated to make them fizzy and resemble champagne.
Ingredients for Blue Cheese Foam (4 servings)
- 100 g (3.5 oz) blue cheese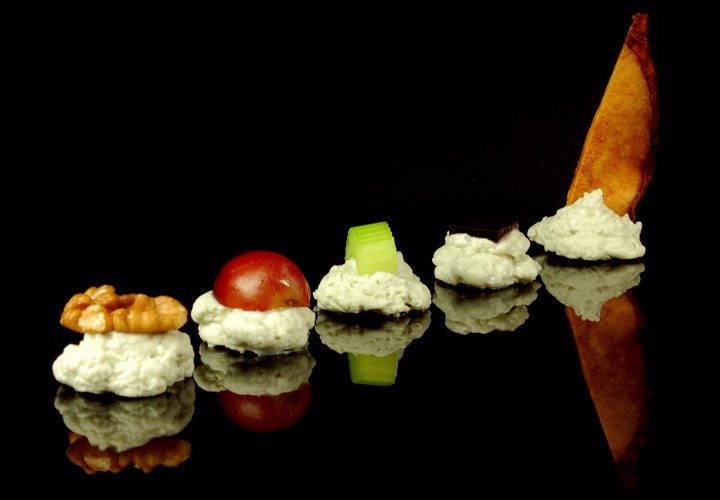 - 125 ml (4.4 fl oz) heavy cream
- 70 ml (2.4 fl oz) whole milk
- 40 ml (1.35 fl oz) olive oil
- salt and pepper
Ingredients for Port Jelly
- 140g (4.9 oz) Port
- 1 g (0.7 %) Agar Agar
Other pairing Ingredients
- 4 walnut halves
- 4 celery slices
- 4 dried pear slices
- 4 fizzy grape halves (read Carbonated Fizzy Fruit) or 4 grape halves
Preparation
Blue Cheese Foam
1- Mix all ingredients except heavy cream in a blender.
2- Pass mixture through a fine sieve.
3- Add heavy cream, season to taste with salt and pepper and stir. Keep in mind that the foam is going to expand 2 or 3 times in the ISI Whip so you need to season 2 or 3 times more than what you would normally do.
4- Pour mixture into ISI Whip, screw 1 cream charger (2 if using 1L ISI Whip) and shake vigorously after each one.
5- Refrigerate for at least 30 minutes.
Port Jelly
1- In a saucepan heat the port with Agar Agar over medium heat while you continuously whisk.
2- Let it simmer while whisking for 5 minutes to reduce the port a little and intensify the flavor.
3- Remove the saucepan from the heat and pass the mixture through a fine sieve to remove any bubbles.
4- Pour the Port and Agar mixture into a flat container to form a layer of 7 mm (0.28 in) thick. Let it cool at room temperature on a flat surface. To pick the right size for the container try with 140g of water first.
5- Once the Port is jellified, cut it in 1 cm (0.4 in) squares using a knife. Use a small spatula to handle the squares. If you are not going to use them right away, store them in a sealed container in the fridge.
Blue Cheese Foam Sequence
1- Get your Anti-Griddle ready. (read Anti-Griddle at Home).
2- For each serving, pump 5 dollops of blue cheese foam onto the Anti-Griddle. The dollop should be about 1.9 to 2.5 cm (3/4 to 1 inch) in diameter and 1.3 cm (1/2 inch) high.
3- Place the pairing ingredients on top of each dollop: walnut, celery, grape, pear and port jelly square.
4- If using a "home-made Anti-Griddle", the total time the dollop should be on the cold surface is between 1 ½ -2 minutes. The bottom should be frozen hard but the center and top of the dollop should be soft and at room temperature. Try "cooking" the dollop for more or less time until you find the desired texture.
5- Transfer dollop to serving plate using a spatula. Serving plate should be cold so it gives you time to prepare all plates before serving. If using a "home-made Anti-Griddle", remember to wait several seconds before eating so you don't burn your tongue.
Serving Suggestions
- Try creating blue cheese foam discs by flattening the dollop with a spatula.
- Cut Port Jelly disc with cookie cutter, place it on top of blue cheese disc and top with walnut.
- When the foam is still unfrozen at the bottom, insert a tooth pick and hold it for a few seconds until it stays in place.