Our Hens Egg, Cooked Inside Out and Truffled
This is another brilliant dish created by Chef Eneko Atxa of Azurmendi. An egg yolk is carefully pierced, half of the yolk is extracted and then replaced with hot truffle broth which starts cooking the yolk from the inside. An explosion of flavor!
The creaminess of the egg yolk and the earthiness of the truffle come together to create a bite infused with rich flavor and the truffle on top gives it a bit of texture. Possibly the most impressive part of this dish is that the serving temperature was perfect, so make sure to get that part right. Chef Atxa recently received his 3rd Michelin star and with dishes like this, it's no wonder why! Thanks for sharing your recipe, Chef!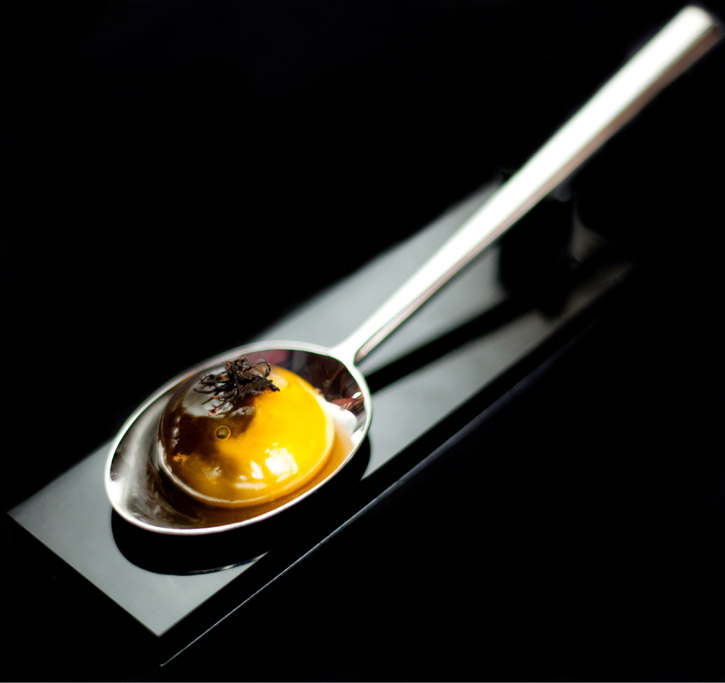 Ingredients
Ingredients for 5 people
- 5 eggs
- 54 ml (1.8 oz) melanosporum truffle juice
- 5 g (0.18 oz) truffle Aestivium
- 3 ml (0.1 oz) white truffle oil
- 3.8 g (0.13 oz) Resource ThickenUp or alternatively you can use 0.3% (~0.16g) of Xanthan Gum
 Preparation
1- Heat the truffle juice and thicken with the Resource.
2- Strain and reserve.
3- Slice the truffle thinly and cut into strips.
4- Separate the yolks from the whites and reserve the yolks in cold water.
Assembly
1- Place a spoon on a serving plate with an acrylic support to secure the utensil. Or you can use an appetizer spoon too.
2- Drain the egg yolk well and place it on the spoon. It needs to be dry, use a slotted spoon and a paper towel if necessary.
3- Place 2 drops of truffle oil on the yolk.
4- Gently pierce the yolk's membrane with a brochette stick and drain a little more than half of the yolk using a syringe.
5- With another syringe, inject hot truffle broth into the yolk's membrane.
6- Garnish with julienned truffle to cover the hole in the membrane.