Crispy Basil Leaves with Lemon Zest Sorbet
Basil pairs perfectly with lemon and this simple dessert is no exception. The combination of crunchy and sweet basil leaves with lemon zest sorbet is very refreshing and delicious.
Fresh basil leaves are covered in a thin layer of meringue and are dehydrated for a couple of hours to make them crispy. Perfect! The meringue is made with Methyl Cellulose and Xanthan Gum to make it more stable to heat and humidity but in this case this is not so critical so it could be made in the traditional way with egg whites.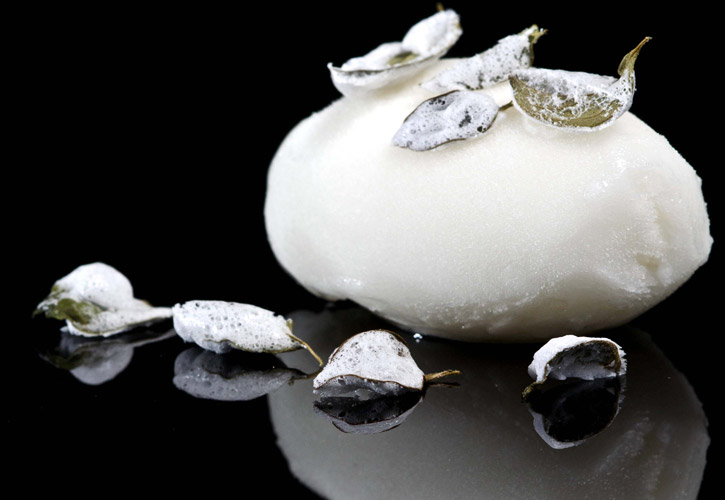 Ingredients for Meringue
- 120 g (4.2 oz) water
- 40 g (1.4 oz) sugar
- 3.8 g (0.13 oz) Methyl Cellulose F50
- 0.9 g Xanthan Gum
Other Ingredients
- Small fresh basil leaves
- Lemon zest sorbet
Preparation
1- In saucepan bring sugar and water to boil, stirring to dissolve sugar. Remove from heat. If you have a Thermomix, use this fantastic appliance instead so you can then blend  and whisk everything in the same container. Use the "varoma" setting and then turn the speed off once it starts to boil.
2- In bowl of stand mixer or Thermomix, mix syrup with Methyl Cellulose F50 and Xanthan Gum using an immersion blender until completely dissolved.
3- Attach bowl to mixer fitted with whisk attachment and mix on high speed for 7 minutes or until stiff peaks form. If using a Thermomix, add the butterfly whisk attachment and set speed to 5.
4- Dip fresh basil leaves in meringue to cover them with a thin layer on both sides.
5- Place basil leaves covered in meringue on dehydrator tray lined with parchment paper or silicon mat.
6- Dehydrate at 66 °C (150 °F) for 2 hours or until crisp.
8- Reserve in airtight container. If you have silica gel bags use them!!
9- When serving, place most of the basil leaves on the side of the sorbet rather than on top so they remain crispy.