Modernist Mango Custard w/ Carbonated Calamansi Gel
This creamy, tropical dessert is a modernist custard from Chef Russell Karath that's vaguely reminiscent of the orange creamsicles of your youth. The freeze-dried mango lends a nice crunch and the grapefruit pairs well with the carbonated calamansi gel to give you a fun splash of fresh citrus flavor. The cilantro spices things up a bit while the mango custard adds a traditional texture. Coconut powder and coconut sorbet add that final layer of tropical coolness that will transport you straight to the beach.
Chef Russell Karath has worked at several three Michelin star restaurants including Per Se (Chef Thomas Keller), Alinea (Chef Grant Achatz), L2O (Chef Laurent Gras), The French Laundry (Chef Thomas Keller) and two Michelin star restaurant Noma (Chef Rene Redzepi) and Corton (Chef Paul Liebrandt). What an invaluable experience!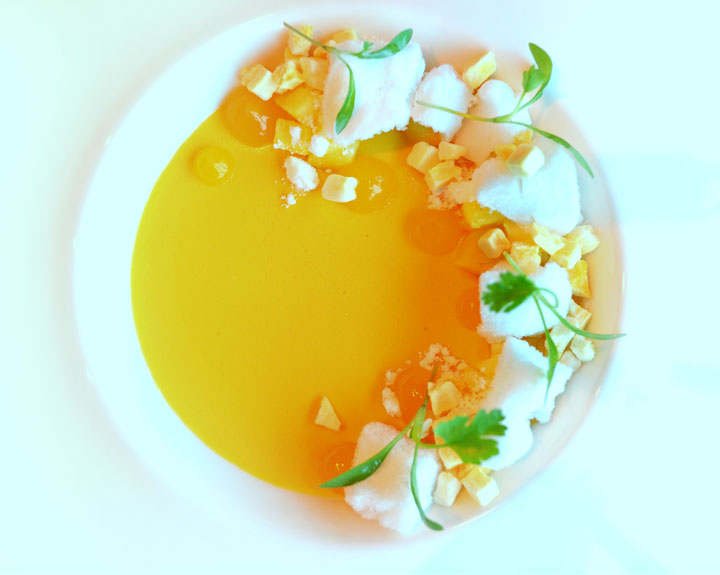 Kappa carrageenan is used to make the modernist mango custard. Made from seaweed found off the Irish coast, this flavorless gelling agent is used frequently in modernist cuisine as a vegan-friendly alternative to traditional gelatin or pectin. Chef Karath's mango custard dish is gluten free and contains no nuts.
Before you get started, make sure that you have all of the ingredients and tools that you need. Molecular gastronomy methods used include carbonating the calamansi gel and gelification with Kappa Carrageenan. You'll need a whipper for the carbonated gel such as the ISI Gourmet Whip that you can get from our store. If you are looking for incredible dishware to plate this, check these out! Here are all of the ingredients that you'll need to make this modernist custard.
This recipe yields 4 bowls of modernist custard.
Ingredients List
It's important to make sure that you have all of the ingredients prior to making this dish so check the list carefully.
Ingredients for Modernist Mango Custard
- 450g (15 oz) cream
- 300g (10 oz) mango puree
- 75g (2.64 oz) white sugar
- 1.25g (.04 oz) kappa carrageenan
Ingredients for Carbonated Calamansi Gel
- 500g (17 oz) calamansi puree
- 8g (.27 oz) agar
- 65g (2.2 oz) water
- 100g (3.5 oz) white sugar
Ingredients for Coconut Sorbet
- 500g (17 oz) coconut puree
- 210g (7.4 oz) sugar
- 52.5g (1.84 oz) glucose powder
- 5g (.17 oz) sorbet stabilizer
- 382g (13 oz) water
Garnishes
- 4 tsp freeze dried coconut milk powder
- 1 cup grapefruit segments
- 1 cup of freeze dried mango
- Several sprigs of micro cilantro
Preparation:
Mango Custard
1 - Heat cream and sugar.
2 - Stir in kappa carrageenan while it's still warm.
3 - Bring cream mixture to a complete boil.
4 - Add mango puree and bring back to a boil.
5 - Pass through a chinoise and pipe into plates. There are some cool looking modernist bowls and plates here.
6 - Lightly torch out air bubbles.
Calamansi Gel
1 - Combine water and sugar in a pot.
2 - Whisk in agar and bring mix to a boil.
3 - Once mix boils, add the calamansi puree and return to a boil for 30 seconds.
4 - Pour mixture into a shallow hotel pan and let set in the fridge.
5 - Once the gel is completely set, blend until completely smooth.
6 - Pass through a chinoise and and pipe into ISI Twist & Sparkle (product has been recalled now)
7 - Charge with CO2.
8 - Reserve in fridge until ready to serve.
Coconut Sorbet
1 - Heat water in large saucepan or small stockpot.
2 - Whisk in sugar, glucose powder and sorbet stabilizer.
3 - Bring mix to a slight boil.
4 - Poor over coconut puree, chill, and spin in the ice cream machine.
5 - Smooth into a hotel pan and freeze.
6- Cut in roughly 3cm squares.
Modernist Custard Assembly
1 – The mango custard was piped into the bowls when you finished it, so we'll start there.
2 – Add several pieces of grapefruit sections to the custard in a quarter-moon shape around the perimeter of the right side of the bowl.
3 – Using the ISI Whip pump calamansi gel dots on top of the custard.
4 – Layer 1/4 cup freeze dried mango on top of the custard around the same half-moon section of the plate as the grapefruit.
5 – Sprinkle 1 teaspoon of coconut powder on top of the freeze-dried mango pieces.
6 – Add 7 or 8 squares of coconut sorbet on top of the mango and grapefruit sections.
7 – Garnish with a few sprigs of micro cilantro.
8 – Serve immediately.
Thank you to modern pastry Chef Russell Karath for sharing this exotic, fruity dish that beautifully highlights the sweet side of modernist cuisine!