NE Clam Chowder Foam, Quail Egg, Sea Wind
A modern version of New England Clam Chowder: robust, aerated chowder broth over sautéed little neck clams with celery, carrots and onions, as well as pancetta suspended in maple syrup. On the spoon over the bowl, a cold presentation of: raw little neck clam on the shell, pan fried quail egg sunny side up, masago caviar, oyster cracker, chive oil, and deep sea wind (shellfish foam).
Several molecular gastronomy techniques are used in this recipe. Aeration of broth through ISI Whip with NO2, emulsification of shellfish foam with soy lecithin and suspension of pancetta in maple syrup with Kappa.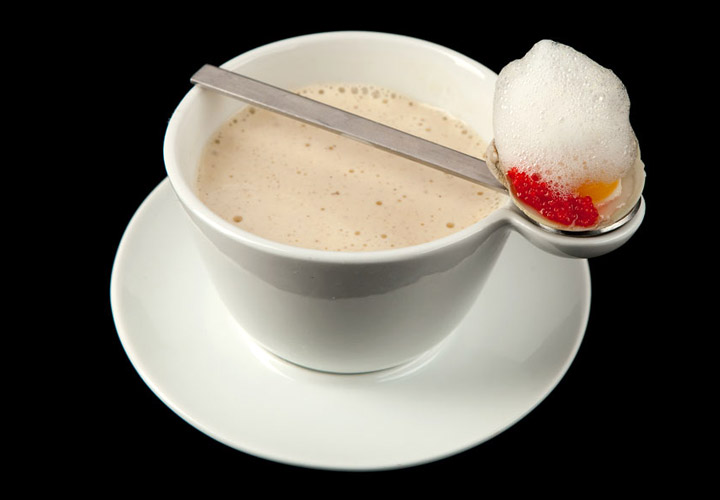 Ingredients for Clam Espuma (yields approx. 16 (5 oz.) servings)
- 3 cups bacon, cut into 1" by ½" pieces
- 3 cups mirepoix, cut small (celery, onions and carrots)
- 10 garlic cloves, chopped
- 6 cups clam juice
- 4 cups heavy cream
- 10 bay leaves
- 3 tbsp black peppercorns
Ingredients for Maple Suspended Pancetta Cubes
- Pancetta, cut into cubes of desired size
- 200 g (7 oz) maple syrup
- 3 g kappa carrageenan (buy kappa carrageenan)
Ingredients for Chive Oil
- 2 bunches chives
- ½ bunch parsley
- ½ cup olive oil
- ½ cup canola oil
- ½ tsp salt
Deep Sea Wind
- 2 cup clam juice
- 1 tsp soy lecithin (buy soy lecithin)
Oyster Crackers
- 107.5 g (3.8 oz) warm water
- 6.5 g (0.23 oz) fresh yeast
- 2 g sugar
- 235 g (8.3 oz) flour
- 2 g kosher salt
- 27.5 g (0.97 oz) melted butter
Other Ingredients
- Pan-fried Quail Egg (1 per serving)
- Masago (a pinch per serving)
- Roasted confit mirepoix (medium dice)
- Clams (3 cooked & 1 raw per serving)
- Microgreens
Preparation

Clam Espuma
1- Render bacon. Cook on low to medium heat until white fat melts and reserve.
2- Sweat mirepoix and garlic in bacon fat. (soften the vegetables without browning)
3- Deglaze with clam juice, then add in heavy cream.
4- Reduce on medium heat for 5 mins, then pass through a chinois.
5- Pour warm espuma base into 1 L ISI Whip and charge twice.
Maple Suspended Pancetta Cubes
1- Heat maple syrup and kappa to at least 70 °C (158°F). Remove from heat.
2- Dip pancetta cubes in maple solution and let gel on parchment paper.
Chive Oil
1- Bring medium saucepan of water to boil. Immerse herbs for approx. 10 seconds, then immediately place into ice bath.
2- Rough chop herbs and place in blender with salt. Stream in oil on high speed until fully blended.
3- Line chinois with a layer of cheesecloth. Pour blender contents and let drain. If needed right away, use ladle to pass. May need to pass again if any solids find their way through cheesecloth.
4- Pour into squeeze bottle.
Deep Sea Wind
1- Blend clam juice and soy lecithin in a high container wide enough to collect the air (about 25 cm) using an immersion blender. Add more lecithin if necessary.
Oyster Crackers
1- Stir together yeast, warm water, and sugar. Let yeast proof for 5 mins (bubbly foam should form).
2- Combine all ingredients in stand mixer. Beat on low speed with dough hook for 6 mins or until dough comes together to form a ball.
3- Remove from mixer. Cover and let dough rest in warm place for 25 mins.
4- Preheat oven to 232 °C (450 °F).
5- Divide dough in half. Roll out by hand or with pasta machine to 1/16 inch thick.
6- Cut into 1½ inch squares and place on silpat/sheet tray. Top with Maldon or desired seasoning.
7- Bake for 6 mins until dough puffs up and is golden brown. Let cool.
Assemble and Serve
1- In a small sauté pan, heat up 3 cooked clams, the mirepoix confit, and the maple pancetta. Dispense the content into the bottom of the Harmony cup or desired serving dish.
2- Produce the sea wind by lifting the immersion blender to the upper part of the liquid surface to incorporate as much air as possible so that foam forms on the surface. Once you have enough foam on the surface, let it rest of 1 minute so that the foam sets and the excess of liquid is eliminated.
3- Fill the Harmony Cup with the espuma by dispensing the creamy chowder mixture using the ISI whip siphon.
4- On the Harmony Spoon, first rest the raw (shucked) clam. Top the clam with a touch of the chive oil, 2 air breads, a pinch of masago, the (sunnyside up) quail egg, microgreens and finally an organized and stabilized dollop of deep sea wind. Serve immediately so the wind and espuma do not dissolve.
Thank you Chef Tre Ghoshal for sharing this recipe with us!