Pigeon, Foie Hazelnuts and Fallen Forest Leaves
A masterpiece from Chef Eneko Atxa at his 3-Michelin Star restaurant Azurmendi in Spain. A perfectly-cooked pigeon, foie gras and chocolate presented as faux hazelnuts, an earthy mushroom deuxelles, pigeon reduction and real hazelnuts. You're going to wish for a second serving of this one!
Azurmendi restaurant is located on a hill in the Basque Country in Spain, just outside Bilbao. This beautiful restaurant won the Sustainable Restaurant Award in 2014 by S. Pellegrino & Acqua Panna. I highly recommend it if you are in the area.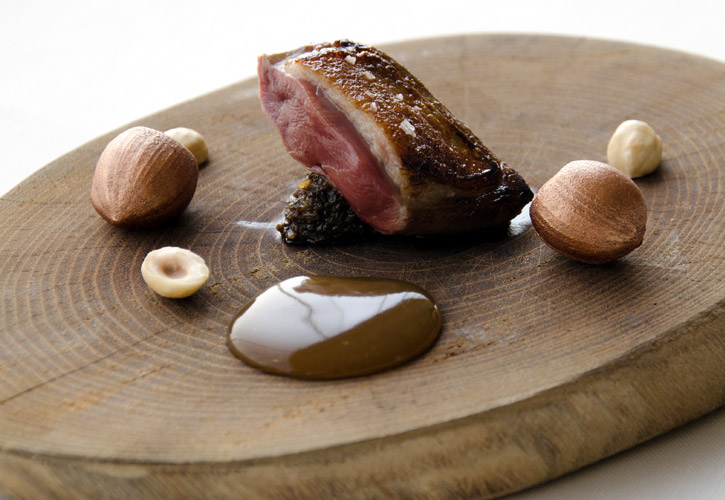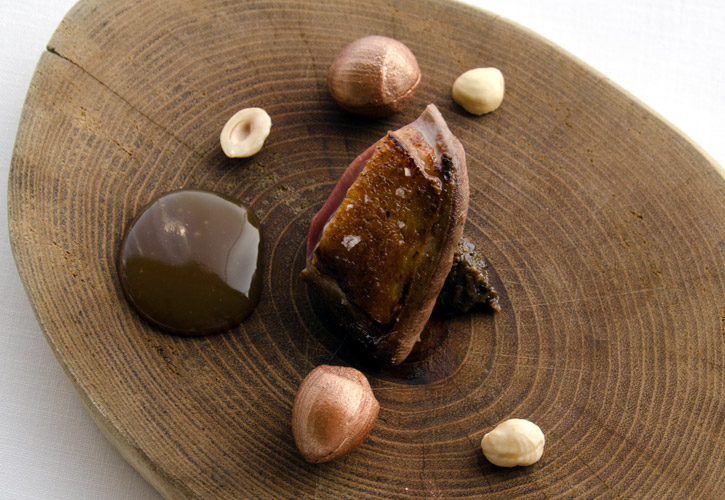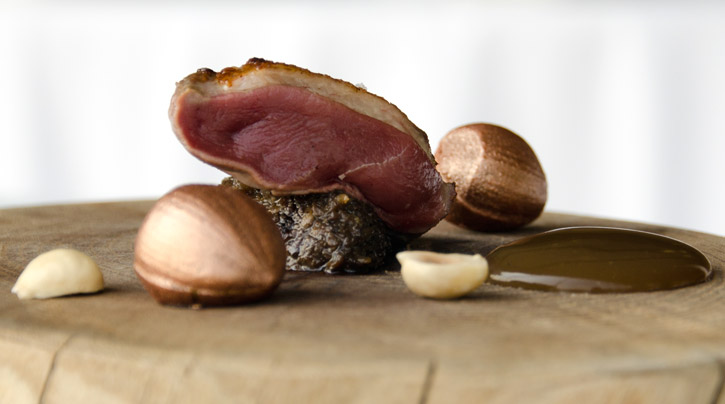 Ingredients
Ingredients for 6 people
Faux Hazelnuts Ingredients
- 1ml (0.034oz) olive oil
- .2 g (0.007oz) garlic
- 20g (0.705oz) chicken livers
- 80g (2.822oz) foie
- 2ml (0.068oz) Armagnac
- 4g (0.141oz) milk chocolate
- 24g (.846oz) dark chocolate
- .2g (0.007oz) bronze powder dye
- .4g (0..014oz) powdered copper dye
- .6g (0.020oz) potato starch
Mushroom Deuxelle Ingredients
- 90g (3.175oz) peeled mushrooms
- 12g (.423oz) minced shallot
- 65ml (2.2oz)  liquid cream
- 9g (0.317oz) butter
- 4g (0..141oz) parmesan cheese
- 10g (0.353oz) Iberian ham
- 6g (0.212oz chives
- 0.320g (0.013oz) agar-agar
- Fine Salt
Pigeon Sauce Ingredients
- 50g (1.764oz) onion
- 30g (1.058oz) red pepper
- 40ml (1.353oz) red wine
- 1g (0.035oz) sugar
- 2 pigeon bones
- xanthan gum to thicken as needed
Other Ingredients
- 3 pigeons of 450g (1lb)
- 80g (2.822oz) of butter Isigny
- 9 natural hazelnuts
- 2 Mushrooms
Preparation
Faux Hazelnuts
1 - Brown the chopped garlic in Brunoise and sauté the chicken livers.
2 - Flambé with Armagnac.
3 - Add to food processor and grind, adding the foie in small cubes.
4 - When blended, add salt and strain.
5 - Refrigerate.
6 - Paint the milk chocolate into the base of the hazelnut molds.
7 - Allow to cool a little.
8 - Paint the rest of the mold with the dark chocolate
9 - Drain well.
10 - Cool and fill with the cream of foie.
11 - Cap the two halves of the mold and freeze.
12 - Mix the potato starch and bronze dye together.
13 - When "hazelnuts" are frozen, unmold and paint with the mixture of dye and potato starch.
Mushroom Deuxelle Preparation
1 - Fry the minced shallot in Brunoise with the butter.
2 - Add the chopped mushroom in the robot-coupe or food processor (it is very important that this not get finely chopped)
3 - Cook about 5 minutes.
4 - Add the cream and allow to reduce.
5 - Add the iberian ham (very finely chopped) and the grated Parmesan.
6 - Add the agar-agar and chopped chives.
7 - Add a pinch of salt.
8-  Set aside.
Pigeon Sauce Preparation
1 - Chop the vegetables and lightly drizzle with olive oil.
2 - Stir fry.
3 - Add the sugar, ground almonds, and red wine and reduce.
4 - Add pigeon bones in pot, cover with water and boil for 3-4 hours over low heat.
5 - Strain with the super-bag or fine sieve covered in cheese cloth and reduce until it's a dark color.
6 - Thicken with xanthan gum as needed.
Other Ingredients Preparation
1 - With a boning knife, remove the breasts from the pigeons and vacuum pack individually.
2 - Clarify the butter.
3 - Peel the hazelnuts and cut in half.
4 - Slice the mushrooms and dehydrate in food dehydrator.
Assembly
1 - Cook the pigeon breasts in a sous vide bath for 7 minutes at 62.5ºC (144.5°F).
2 - Cool in ice water bath.
3 - 5 minutes before serving, put breasts in butter and keep at 40-42ºC.
5 - Make a quenelle of deuxelle in the center of a wooden plate.
6 - Place a couple of slices of dried mushroom on the plate (not shown in pictures).
7 - Place about 2 faux hazelnuts and 3 pieces of natural hazelnut on each plate.
8 - Drain the pigeon breast well from the butter and cut in half lengthways.
9 - Place a piece on the Deuxelle.
10 - Finish with a spoonful of pigeon sauce on the side.