Caviaroli: Olive Oil Caviar by Ferran Adria
During the Science & Cooking seminar at Harvard in September 2010, Ferran Adria announced the launch of a new commercial product of his exquisite olive oil caviar for early 2011. The olive oil caviar is finally in the market after two years of research and it is commercialized under the brand Caviaroli. I was recently able to taste it and can tell you that the quality of the product is exceptional. To buy Caviaroli from our store click here.
The caviar membrane is thin and easily bursts in your mouth releasing the wonderful aromas of excellent Spanish olive oil which has not been modified with any additives. Caviaroli has great bright yellow color and clean transparency to add a magical touch to any dish.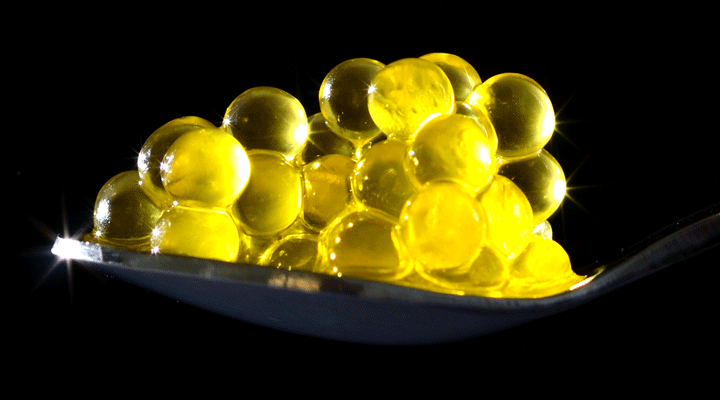 It really enhances the presentation and the eating experience.  Best of all, it doesn't need to be consumed immediately like caviar made with basic spherification, making Caviaroli easy and convenient to use.
This olive oil caviar is not made using the traditional method of basic spherification because the sodium alginate cannot be dissolved in oil. It is made using a new technique which surrounds olive oil drops with a thin layer of water with sodium alginate and the drops then go into a calcium bath (basic spherification). Olive oil does not gelatinize, but with this technology, Caviaroli is able to create a thin capsule of gelatin around the olive oil drop to form the olive oil caviar. With this patented method, the olive oil inside the sphere remains pure as it has never been altered by adding an alginate or any other ingredient. As the olive oil contains no alginate, the process of jellification does not continue after the caviar is formed and Caviaroli can be stored to be consumed at a later time.
There are numerous applications of Caviaroli as olive oil pairs well with a wide variety of ingredients. Here are some examples of dishes with olive oil caviar served by Ferran Adria at el Bulli and by other well-known Chefs who are serving Caviaroli.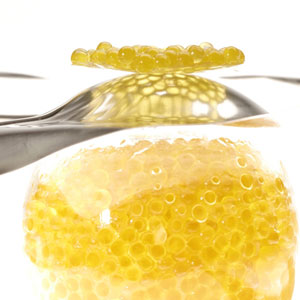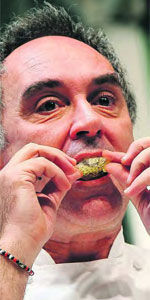 -Caviar Cracker (by Chef Ferran Adria - el Bulli) Recipe coming soon!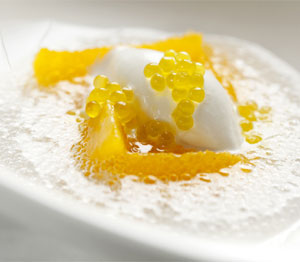 -Oxygenized Infusion of orange flower with olive oil caviar, oranges and yogurt (by Chef Artur Martinez - Capritx)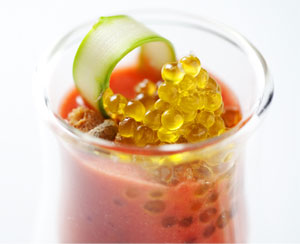 -Strawberry Salmorejo (by Chef Artur Martinez - Capritx) Salmorejo, typical dish from Cordoba in the south of Spain, is similar to a traditional tomato gazpacho but richer and smoother. Read Strawberry Salmorejo recipe!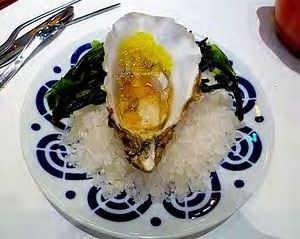 -On raw oysters with Sherry vinegar (by Chef Albert Adria – el Bulli)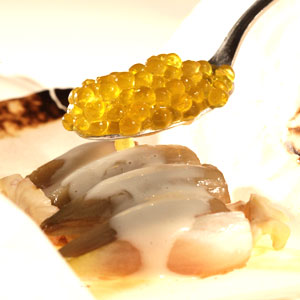 -Papillote of Endives with Olive Oil Caviar (by Chef Ferran Adria - el Bulli)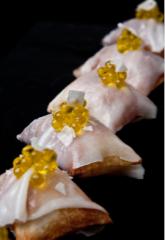 -Air baguette with Iberian bacon, Caviaroli and truffle (by Chef Nando Jubany – Can Jubany) Get air baguette recipe!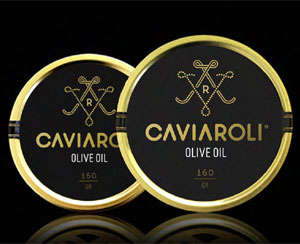 Caviaroli is now being served by several restaurants with Michelin stars such as El Bulli - Ferran Adria (3 stars), Celler de Can Roca – Joan Roca (3 stars), Calima – Dani Garcia (2 stars), El Poblet – Quique Dacosta (2 stars), Miramar – Paco Perez (2 stars), Via Veneto – Carles Tejedor (1 star), Capritx - Artur Martinez (1 star), Can Jubany – Nando Jubany (1 star) and many others.
You can purchase Caviaroli from our store and be one of the first to serve Caviaroli to your dinners! Click here to purchase.