Nutella Powder with Caramelized Bananas
Who doesn't love Nutella? If you are one of us who loves Nutella, you need to try this Nutella Powder. It melts in your mouth instantly and releases the amazing taste and aromas of Nutella. Nothing better than Nutella with banana so here it is, Nutella Powder with Caramelized Bananas and Coconut Ice Cream. Sweet, sweet, sweet.
Nutella Powder Ingredients
- 80 g (2.8 oz) Maltodextrin
- 120 g (4.2 oz) Nutella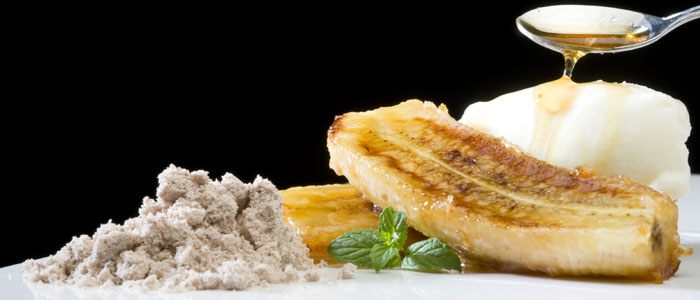 Other Ingredients (4 servings)
- 2 large bananas (somewhat unripe)
- 4 scoops of coconut ice cream
- 4 tbsp. sugar
- 250 g (8.8 oz) grape juice
- mint leaves for garnish
Preparation
Nutella Powder
1- Whisk manually Nutella and Maltodextrin
2- Place mix in a blender and blend for a few seconds, stop the blender and shake it. Blend again, shake and continue repeating this process until you obtain a fluffy Nutella powder.
3- To make it fluffier pass it through a tamis and reserve in a sealed container until needed.
Grape Syrup
1- In medium saucepan reduce grape juice over medium heat until it coats back of the spoon, frequently skimming away foam that rises to surface.
2- Remove from heat .
3- Strain through chinois and let cool at room temperature.
Caramelized Bananas
1- Cut bananas crosswise in half and then cut them again lengthwise.
2- Thoroughly coat bananas with the sugar.
3- Place a pan on high heat.
4- Once the pan is hot, place the banana halves on it.
5- Once the bananas are golden brown, flip them and remove them from the pan once the other side is golden brown. This should take only a few minutes on each side.
Assemble and Serve
1- Place two banana slices on each plate.
2- Place a spoon of Nutella powder next to them.
3- Add a scoop of coconut ice cream on top of the bananas.
4- Pour a small spoon of grape syrup on the ice cream.
5- Garnish with mint leaf.
Serving Suggestions
- If you don't like it too sweet, try the Nutella powder with slices of fresh apple. Yummy!