Saffron Crème Anglaise with Coffee Air
The Saffron Crème Anglaise with Coffee Air became one of my favorites! It is addictive and simple to make! The crème anglaise is infused with a delicate saffron aroma and topped with coffee air. This dessert idea is from molecular gastronomy Chef Alejandro Digilio.
Ingredients for Crème Anglaise (4 servings)
- 1 cup whole milk
- 1/2 cup heavy cream
- 5 large egg yolks
- 1/3 cup sugar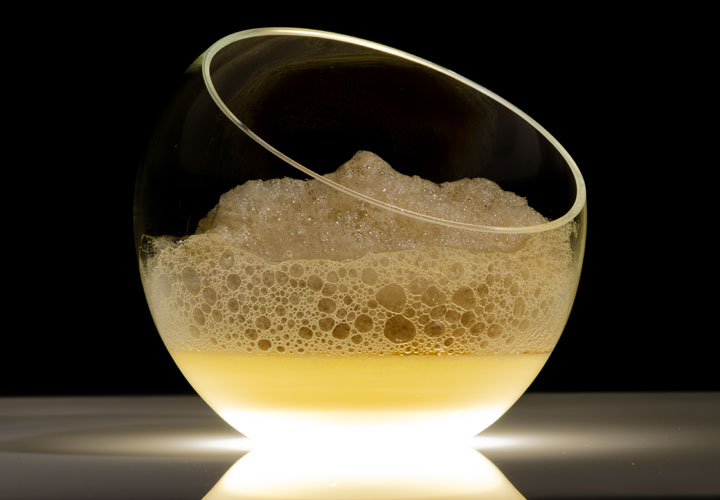 - pinch of salt
- 1/4 tsp saffron threads
- 1/4 tsp vanilla extract
Ingredients for Coffee Air
- 500 g (17.6 oz) of brewed coffee
- 2.5 g soy lecithin powder (buy soy lecithin powder)
- 1 tsp sugar
Preparation
Saffron Creme Anglaise
1- In a small pot heat milk, cream, vanilla extract and saffron threads over medium heat until it starts to steam.
2- Remove from heat and let it rest at room temperature for 30 minutes to infuse the mix with saffron aromas.
3- Pass the mix through a fine sieve and reheat at medium temperature until it starts to steam.
4- While you are reheating the mix, whip the egg yolks, sugar and pinch of salt in a bowl until pale yellow.
5- While you continue whisking, very slowly pour the hot cream mixture into the yolk mixture.
6- Bring water to boil in a double boiler making sure the water doesn't touch the pan on top.
7- Strain the mixture into the double boiler and stir until it begins to thicken.
8- Remove from heat and continue stirring. The custard should be thick enough to coat a spoon.
9- Transfer the crème anglaise to a container, cover it with plastic wrap touching the surface and refrigerate until serving time.
Coffee Air
1- Using an immersion blender, mix in the soy lecithin powder, sugar and coffee in a tall and wide container suitable for creating the coffee air. For creating air I like using a rectangular container that is at least 4 or 5 inches tall that I cover 2/3 of it with plastic wrap. I then insert the immersion blender sideways from the uncovered end which a lift slightly to collect the liquid on the covered end where the blender blades are.
2- To produce best results, the mix needs to be cold. Place it in the fridge until you are ready to start plating and then produce the coffee air.
Assemble and Serve
1- Generate the coffee air. You will have to lift the blender to the upper part of the liquid surface to incorporate as much air as possible so that foam forms on the surface. Let the air rest for 1 minute so the foam sets and the excess of liquid is eliminated.
2- Pour about 100 ml of Saffron Crème Anglaise into each bowl. Keep in mind that the crème anglaise is very rich so a small portion should be enough for each diner.
3- Using a perforated spoon, scoop some coffee air and place it on top of the Saffron Crème Anglaise in each bowl. Enjoy!!