Carrot, Coffee, Coconut and Oranges
As we've seen in the "Potato chip with Gruyère, Vanilla Oil and Coffee" recipe, coffee is a fine and versatile product that pairs perfectly with savory foods and this recipe pairs it with carrots, coconut and orange. This delicious flavor combination is a result of the scientific method of food pairing that we explained in our article "Food Pairing in Molecular Gastronomy".
Thanks to the website FoodPairing, the scientific method of pairing ingredients is now available to everyone. Some foods are free to access and others require a subscription but it is well worth it! You can create your own combinations by selecting an ingredient and the FoodPairing tool will show you more good pairing foods ranked by affinity. You can filter the foods by category (e.g. beverages, condiments, dairy, etc) and select the ingredient you like.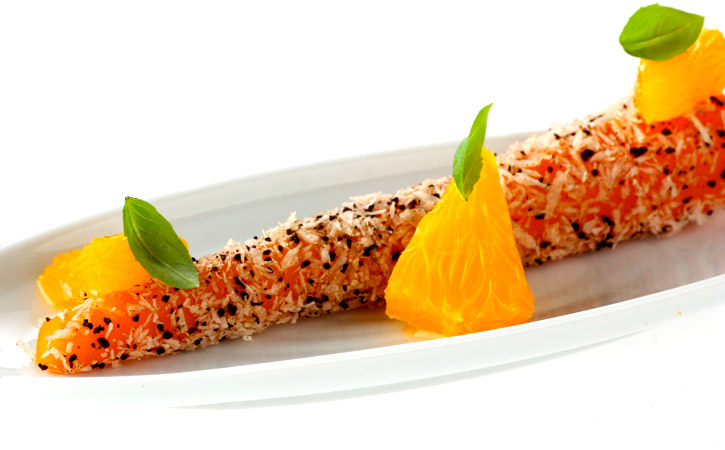 FoodPairing will then show you the foods that match with all the ingredients you have selected so far. It is a great way to get to know new ingredients and use them in creative combinations to impress your guests. Learn more about FoodPairing here.
Ingredients
- 9 g grated coconut
- 1 g ground coffee
- 0.3 g salt
- cooked carrots
- orange pieces
Preparation
1- Mix the coconut with the coffee and the salt.
2- Roll the carrots in the mixture.
3- Serve with some pieces of orange.