Smokey Forest: lavender smoke, porcini soil, arugula sphere
A beautiful, delicious example of basic molecular gastronomy. This mysterious, exotic-looking dish uses some basic modernist cuisine techniques that will delight both your palate and your senses. The earthy, sweetly acidic flavors of the truffle-infused balsamico and portabellas blend with the fresh flavors of the asparagus ribbons and arugula spheres to create a perfectly balanced dish that's sure to be the talk of the table.
The light flavor of the lavender smoke, the nutty undertones of hazelnut powder and dried porcini and almond soil marry beautifully with the robust goat cheese and gnocchi to make Smokey Forest as pleasing to eat as it is to look at! Perhaps the best part of this dish is that the molecular gastronomy techniques used are easy to learn and fun to execute.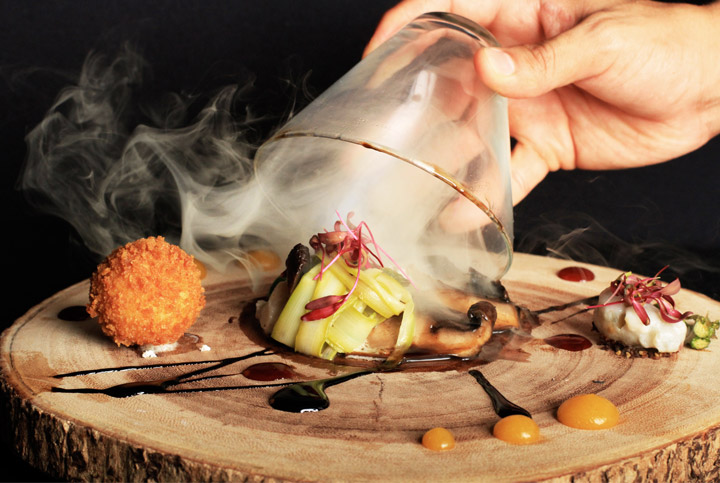 Modernist techniques used in this dish are cold smoking with Smoking Gun, gelification of apricot, spherification of arugula, dehydration of porcini soil and transformation of hazelnut oil to powder with tapioca maltodextrin.
Yields 6 servings using approximately 3/4 mushroom cap per serving.
Ingredients for Each Component
Before you begin preparing Smokey Forest, make sure that you have everything that you'll need. Molecular gastronomy tools that you'll need include ingredients for spherification, tapioca maltodextrin to convert oil into powder, Ultra-Sperse 3 and Ultra-Tex 3 for the gels and a PolyScience Smoking Gun.
Ingredients for Marinated Portabella Mushroom
- 5 caps portabella mushroom, gutted
- 1/8 cup balsamic reduction
- 1/2 cup low sodium soy sauce
- 1/8 cup apple cider vinegar
- 1 tbsp honey
- kosher salt and cracked black pepper to taste
- 1 sprig fresh thyme
- 2 sprigs fresh rosemary
- 1 cup blended oil
Arugula Sphere
- 113g (1/4 lb) Fresh arugula
- kosher salt and cracked black pepper to taste
- 1 cup vegetable stock
- 1 1/2 tsp sodium alginate
- Calcium bath (0.5% of Calcium Chloride in water)
Hazelnut Powder
- 1/4 cup hazelnut oil
- kosher salt and cracked black pepper to taste
- 1/2 cup tapioca maltodextrin
Goat Cheese Ball
- 1 lb Humboldt fog chevre goat cheese
- 2 cups Japanese panko bread crumbs
- 3 eggs
- 1/2 cups all-purpose flour
Pinot Noir Gel
- 1 1/2 cup pinot noir
- 1/4 cup granulated sugar
- 3 Tbsp. ultra-sperse 3
Sweet and Sour Apricot Gel
-1 cup apricot
-1 cup simple syrup
-½ cup tangerine Juice
-Ultra-Tex 3 to obtain desired consistency
Roasted Garlic Gnocchi
- 1 large Yukon Gold potato
- 5 cloves garlic
- 1 shallot, roasted and passed through a tamis
- 1/4 bunch finely chopped parsley
- 1 egg yolk
- 1 1/2 tsp extra virgin olive oil
- 113g (4oz) all-purpose flour
- kosher salt and cracked black pepper to taste
Dried Porcini & Almond Soil
- 1 cup dried porcinis
- 1/2 cup almonds, toasted
- 42.5g (1.5 oz) dark pumpernickel bread
- 2g kosher salt
Other Ingredients
- White truffle-infused balsamico
- Dried lavender flowers
Preparation
Arugula Spheres
1 - Blanch and shock the arugula for up to 15 seconds.
2 - Transfer the arugula to the blender.
3 - Add the stock and salt and pepper to taste.
4 - Puree until smooth.
5 - Add the alginate.
6 - Continue to puree until well blended and smooth.
7 - Using a tablespoon, drip spheres into the calcium bath.
Because the arugula spheres need to sit for a few minutes in the calcium bath in order to spherify but will turn to gel as time goes by, get them into the bath about 5 minutes prior to plating. There are two spherification methods typically used in molecular gastronomy: basic and reverse. For this recipe, use the basic spherification method.
Hazelnut Powder
1 - Use a food processor to blend the oil and salt and pepper to taste.
2 - Add the starch a little at a time until a powdery consistency is reached.
3 - Set aside.
Goat Cheese Ball
1 - Roll the goat cheese into uniform 14g (1/2 oz) balls.
2 - Place the flour, egg and bread crumbs into 3 separate bowls.
3 - Roll the cheese thoroughly in the flour.
4 - Dip the cheese into to egg.
5 - Roll the cheese in the bread crumbs.
6 - Deep fry the cheese at 350 °F for about 1 minute or until golden brown.
Pinot Noir Gel
1- Blend all ingredients with immersion blender.
2- If necessary, add a touch more of ultra-sperse 3 to allow gel to stand on its own. If too thick, add a touch more of pinot noir.
3- Transfer to squeeze bottle.
Sweet and Sour Apricot Gel
1- Set Sous Vide bath to 85 ᴼC (185 ᴼF).
2- Place ingredients in sous vide bag and suck air out. Place bag in sous vide and leave for 3 hours.
3- Once done, shock apricot bag in ice bath. When cooled, blend all of the contents in the bag until smooth.
4- Add Ultra-Tex 3 until desired consistency is reached. Transfer to squeeze bottle.
Roasted Garlic Gnochi
1 - Peel the potato and boil until soft, about 10 minutes.
2 - Let it rest for 30 minutes until cool enough to work with.
3 - Pass it through a tamis into a large mixing bowl.
4 - Mix in garlic, shallot, parsley, egg, olive oil, salt and pepper.
5 - Incorporate the flour and let the dough rest for an hour.
6 - Roll dough out onto a flour board into a 1/2 inch-thick cylinder.
7 - Cut into 1/2-inch pieces with a pizza roller or sharp knife.
8 – Blanch in oiled, salted boiling water for 60 to 90 seconds or until it floats.
9 – Remove from water and set aside.
Dried Porcini and Almond Soil
1 – Pulse all ingredients together in food processor until a crumble forms.
Assembly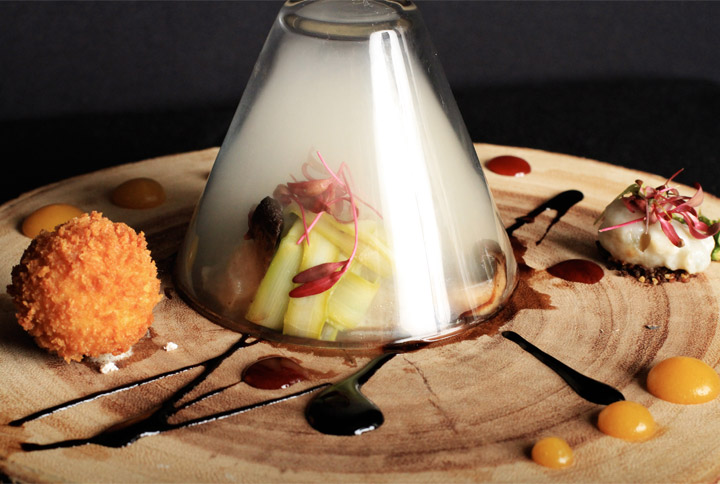 1- Cut the mushroom caps on an extreme bias sashimi style and shingle on the center of a wood bark plate.
2- Lightly drizzle the mushroom with the truffle-infused balsamico.
3- Sprinkle a small amount of porcini soil and hazelnut powder on top of each mushroom.
4- Place a small pile of porcini soil and hazelnut powder on opposite sides of the mushroom.
5- Arrange 1/6 of the blanched asparagus into a nest and place gently on top of the mushroom.
6- Make three 1/2-teaspoon dots of sweet and sour apricot gel around outer edge of plate.
7- Make three 1/2-teaspoon dots of pinot noir gel scattered on the plate.
8- Add one arugula sphere on top of one dot of apricot gel so that the gel acts as a stabilizer for the sphere.
9- Place a stemless martini glass over the mushroom shingle.
10- Place dry lavender flowers in the PolyScience Smoking Gun.
11- Trap lavender smoke under the upside-down martini glass, thereby infusing the mushroom composition with the lavender essence/vapor/aroma.
12- Serve immediately.
Thank you Chef Tre Ghoshal for sharing this beautiful and delicious modernist cuisine recipe with us!