Caramel Poached Apples, Walnut Soil, Cider Honey Foam
While cruising downtown Austin on a Tuesday night during a business trip, we happened to stumble across a real gem on 6th street called Parkside. The food was innovative and delicious so we just had to find out more. It turns out that chef-owner Shawn Cirkiel is well known for his creativity as well as his philanthropy. He opened Parkside five years ago with the intention of serving modern American cuisine using local, seasonal ingredients and the place is a hit! He got his start in Austin by taking over the famous Jean-Luc's Bistro and making it his own. Now he owns three restaurants in Austin: Parkside, Olive and June, and the Backspace.
Parkside's executive chef Jeffrey Rhodes is no novice in the kitchen, either.  He started out as a teenage dishwasher,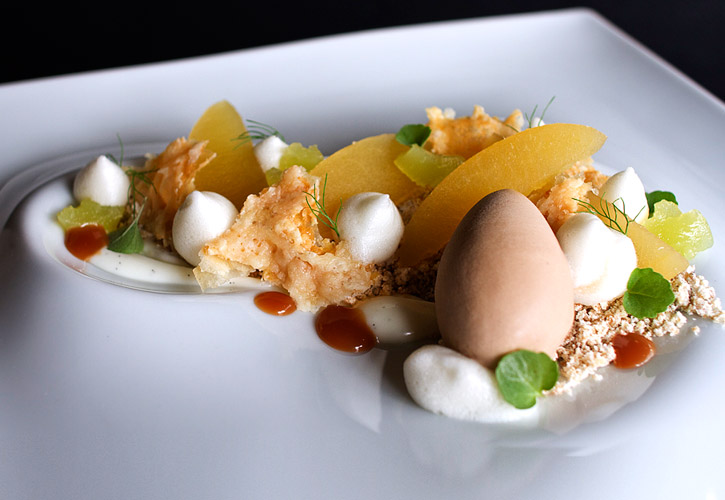 learned every position in the kitchen, then attended Le Cordon Bleu in Portland. He came out of school strong and started truly pursuing his career. Southern cooking came naturally to him and he enjoyed it. That's how he landed in Austin after a stint at the Michelin-starred Plumed Horse in Saratoga, CA and Chez TJ in Mountainview, CA. He now thrives on cooking up new dishes for the adventurous diners at Parkside. His number one goal? To make food that makes people happy. You're hitting the mark, Chef!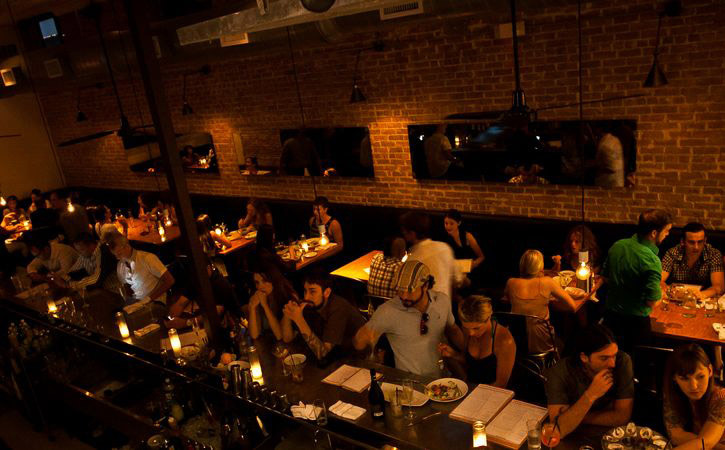 A restaurant just isn't complete without a good pastry chef and Steven Cak certainly fills those shoes! Though fully trained by the Scottsdale Culinary Institute and more-than-competent at any kitchen station, he discovered early on that his passion is desserts. He went back to school at the CIA to focus more on his sweet tooth. After working in several top-notch New York restaurants including Café Gray and Aquavit, he eventually made his way to Austin to join up with Parkside and its sister eateries. He's been nominated for Food & Wine's Best New Pastry Chef and CultureMap Tastemaker Award's Best Pastry Chef. A bite or two of one of his creations will leave no doubt in your mind that the accolades are well-deserved.
Together with the rest of their incredible team, these three chefs really know how to serve an awesome meal and truly make guests feel at home. We can't wait to go back! Thank, chefs, for sharing this Parkside dessert recipe with us.
Caramel Poached Apples by Pastry Chef Steven Cak
Apple fennel jelly, cheddar puff pastry, calvados caramel, honey cider foam, walnut ice cream, walnut soil, Crème Fraiche sauce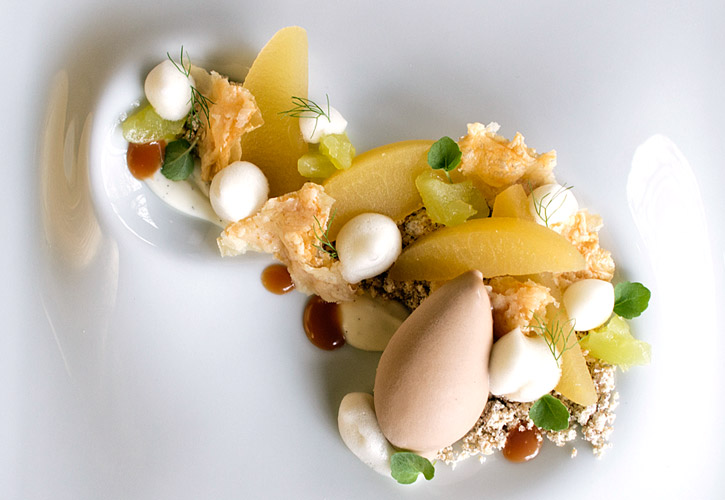 This dessert is magical! Great flavor combination, balanced sweetness and variation of textures. I particularly loved the addition of the cheddar puff pastry to this dessert. Its saltiness really helps bring out the flavors and balances the sweetness in a very delicious way. The honey cider foam and the walnut soil not only add a modernist touch but also bring flavors and textures that make this dish perfect. Photos by Erynn Patrick.
If you like this serving plate, you can get it here.
Ingredients
This recipe yields enough for about 8 servings.
Walnut "Nutter Butter" Soil Ingredients
- 120g (4.23oz) Walnut Flour                               
- 110g (3.88oz) Brown Sugar                              
- 70g (2.47oz) All Purpose Flour
- 6g (0.212oz) Salt                                 
- 72g (2.54oz) Butter, melted
- 110g (3.88oz) Walnut, toasted                        
- 14g (0.49oz) Butter                                            
- 6g (0.21oz)Walnut Oil                       
- 40g (1.41oz) Maltodextrin
Cider Honey Foam Base Ingredients
- 140g (4.94oz) Apple Cider
- 120g (4.23oz) Honey
Cider Honey Foam
- 80g (2.82) Foam Base
- 0.8g (0.03oz) VersaWhip
- 0.2g (0.01oz) Xanthan Gum
 Sous Vide Caramel Apples Ingredients
- 187.5g (6.61oz) Sugar, Granulated   
- 150g (5.29oz) White Wine, Chablis    
- 200g (7.05oz) Water
- ½ Star Anise                       
- ½ Cinnamon Stick                            
- 1 Clove
- 1 Allspice Berry
Crème Fraiche Sauce Ingredients
- 80g (2.82oz) Crème Fraiche
- 28g (1oz) Glucose Powder                                              
- 1/5 Vanilla Bean
 Apple Brandy Caramel Ingredients
- 68g (2.4oz) Sugar
- 12g (0.42oz) Water                             
- 90g (3.18oz) Cream
- 7g (0.25oz) Apple Brandy
 Walnut Ice Cream Ingredients
- 1 qt Cream
- 1 qt Milk                              
- 5g (0.18) Ice Cream Stabilizer         
- 510g (19oz)Sugar
- 375g (13 oz) Walnuts
- 432.5g (15.25oz)Yolks
 Green Apple & Fennel  Jelly Ingredients
- 250g (8.82oz) Green Apple Puree
- 82.5g (2.91oz) Fennel Bulbs, Cleaned/Chopped        
- Simple Syrup to taste                                                       
- 0.14 g Citric Acid                                                                            
- 2 Gelatin Sheets, Bloomed
Garnish Ingredients
- 1 cup Shredded Cheddar Cheese
- 1 sheet 1/8" Puff Pastry
- 24-ish Fennel Fronds
- 24-ish Anise Hyssop leaves
Preparation
There are several components to this dish but don't let the complexity of the dish overwhelm you if you've never created something like this before. Take it one step at a time and you'll have a dish that will convince your guests that you're a culinary genius.
Walnut "Nutter Butter" Soil
1 - Mix first four ingredients in a bowl till homogenous.
2 - Melt your butter and mix into dry till evenly coated.
3 - Bake at 300F, low fan for 9min, rotate, bake another 9min.
4 - Let cool.
5 - Toast the walnuts till fragrant and remove from oven.
6 - Immediately place them in a food processor with the butter and let run for 5-8min to form a loose walnut butter.
7 - Let your butter cool to room temp and add walnut oil and maltodextrin till you form a powder.
8 - Add soil to the walnut powder, mix, and store.
Cider Honey Foam Base Method
1 - Place cider and honey in a bowl and blend with a stick blender till homogeneous.
2 - Strain and store.
Cider Honey Foam Method
1 - Place the foam base in a blender.
2 - Add Versawhip and Xanthan gum by streaming into the base while blender is mixing on high speed. Blend for one minute.
3 - Remove from blender and place in a mixer with a whisk attachment and whip on high for three minutes.
4 - Fill piping bag.
Sous Vide Caramel Apples Method
1 - Place water and spices in a sauce pot and bring to a scald. Remove from heat and reserve hot.
2 - Place sugar in a sauce pot with enough water to make a sandy consistency. Cook to a medium dark caramel and  deglaze with the hot reserved water/spice mixture.
3 - Add the white wine to the caramel water and store.
 Poaching Method
1 – Set sous vide immersion circulator at 79C (26.11°F).
2 - Use two peeled, cored, and sliced Pink Lady apples and one medium bag. Fill with approximately 300g  of caramel broth per bag.
3 - Vacuum on medium if you have a chamber vacuum, if not just seal the bag removing as much air as you can by dipping the bag in a water bath.
4 - Place apple bag in the sous vide bath and turn the temperature down to 75C (23.88°F). Circulate for 2.5 hours and let cool at room temp.                  
Crème Fraiche Sauce Method
1 -  Place in a mixing bowl and paddle together till homogenous.
 Apple Brandy Caramel Method
1 - Scald cream.
2 - Cook sugar and water to a deep amber caramel.
3 - Deglaze with hot cream.
4 - Add brandy and let sit for 30min and strain.                            
Green Apple & Fennel Jelly Method
1 - Puree first four ingredients in the blender and blend for one minute.
2 - Place 10% of puree and gelatin over a double boiler till melted.
3 - Combine with the remaining 90% and strain.
4 - Store in jar and let it set up.
Walnut Ice Cream Method
1- Heat dairy and half of sugar to a scald.
2- Toast walnuts till fragrant but not burnt.
3- Add to dairy and blend with a hand mixer.
4- Let steep for 1hr and strain.
5- Bring the infused dairy with sugar and ice cream stabilizer to 85 °C (185 °F) in a tall pot.
6- Then you mix the other half of the sugar with the yolks in a separate bowl.
7- Temper the hot dairy mixture into the bowl of yolks and sugar.
8- Pour back into the tall pot on a medium high flame and stir it till it reaches nappe or it coats the back of a spoon.
9- Cool and strain.
10- Follow your ice cream maker instructions.
Cheddar Puff Pastry Method
1 - Sprinkle sharp cheddar cheese on a sheet of 1/8" puff pastry dough so it is slightly overlapping.
2 - Bake off till the puff dough is cooked and the cheese starts to caramelize.
Assembly
1 - Spoon some crème fraiche sauce on the plate.
2 - Sprinkle Walnut Soil on each plate, next to the crème fraiche sauce.
3 - Add 4 slices of caramel poached apple to each dish on top of the sauce and soil.
4 - Add one scoop of  ice cream onto each plate.
5 - Add a few drops of the apple caramel brandy sauce around plate.
6 - Add a few small pieces of apple & fennel jelly around plate.
7 - Using a piping bag, place several dollops of cider honey foam around the plate.
8 – Break the cheddar puff pastry into 1 inch pieces and place on top of each plate.
9 - Place 3 or 4 fennel fronds and 3 or 4 Anise Hyssop leaves over each portion.